NY Prison Break: Shocking Video Surfaces Of Escaped Convict Prior To Murdering & Dismembering His Boss –– 4 New Developments As Manhunt In 18th Day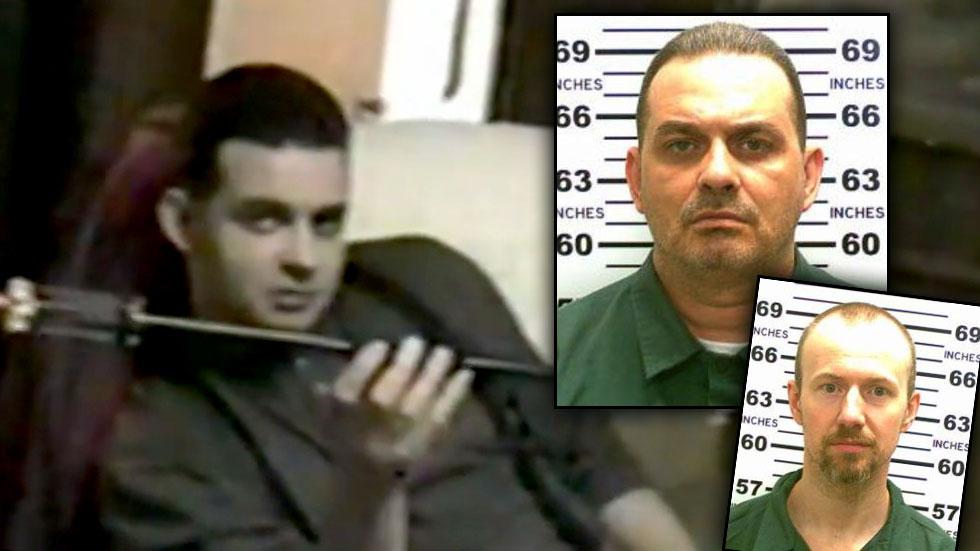 A terrifying video filmed in 1997 sits atop the latest developments in the case of David Sweat and Richard Matt, the two inmates who fled from a New York prison 18 days ago.
Faces Of Death
A chilling 18-year-old video of Richard Matt was broadcast by ABC News Tuesday. The disturbing clip was filmed on 8 MM film in 1997, nine months before Matt kidnapped, killed and dismembered his ex-boss William Rickerson, getting him a 25-year-to-life sentence that landed him in Dannemora's Clinton. In it, the then-30-year-old Matt -- addressed as "Ricky" -- was talking with a pal offscreen, playing with a blow dart gun and crudely joking, "We're gonna dip these in AIDS blood, and we'll put a patent on them and sell as deadly weapons." Toward the end of the video, Matt had his pal shoot him with the gun, and showed off his wound.
Article continues below advertisement
Watch the video on RadarOnline.com
'I Knew I Was Over My Head'
Lyle Mitchell, the spouse of the prison worker accused of aiding the men with power tools, appearing on TODAY Tuesday, said that his wife Joyce understood she was past the point of no return by the time it was too late, as she didn't accompany the men on their escape. Mitchell said that his wife insisted she never had sex with either of the inmates -- even swearing on the life of her son -- and stressed that she didn't want to hurt or injure her husband as part of the escape. Mitchell said his wife got pills from one of the convicts to sedate him prior to the breakout, but didn't take things in that direction. "She said: 'I love my husband, I am not hurtin' him.' She said, "Then I knew I was over my head,'" Lyle Mitchell said. "When it came down to her hurtin' me, that's when she said something was wrong -- she said she was in too deep, she didn't know how to get out of it." Mitchell, whose been married for 14 years to Joyce, said he was in a state of "disbelief" and "shock" after investigators informed him of his wife's role in the escape. While he said he thought his marriage was "excellent," he was admittedly confused in the wake of the surreal events of the past month. "Do I still love her? Yes. Am I mad? Yes. How could she do this? How could she do this to our kids?"
Watch the video on RadarOnline.com
DNA Tests Underway
Investigators have sent items they seized from an Adirondack, New York hunting cabin -- that the men are believed to have broken into -- for further DNA testing, State Police Maj. Charles Guess said Monday. The convicts were linked to the cabin after a hunter noticed a man running in the nearby woods, Acting Franklin County District Attorney Glenn MacNeill told WPTZ. The owner of a nearby inn, Terry Bellinger, recalled a chat with the hunter after the shocking discovery. The "visibly shaken" hunter said he was alarmed by an open jar of peanut butter and water jug in the cabin, Bellinger said.
The Bounty Grows
Authorities have repeatedly warned citizens to keep as much distance from the convicted killers as possible if spotted, urging them to contact police immediately if they see anything suspicious. With that said, officials have upped the bounty for the escaped convicts, as New York state put up a $50,000 reward for info leading to either's arrest, or $100,000 for the pair. An additional $25,000 has been offered by the U.S. Marshals Service, who have included the pair on their 15 most wanted fugitives list, which one official summarized as a destination for "the worst of the worst."