Battle Back On! 'Teen Mom 2' Star Leah Messer's Ex, Corey Simms, To Resume Fight For Full Custody Of Twin Daughters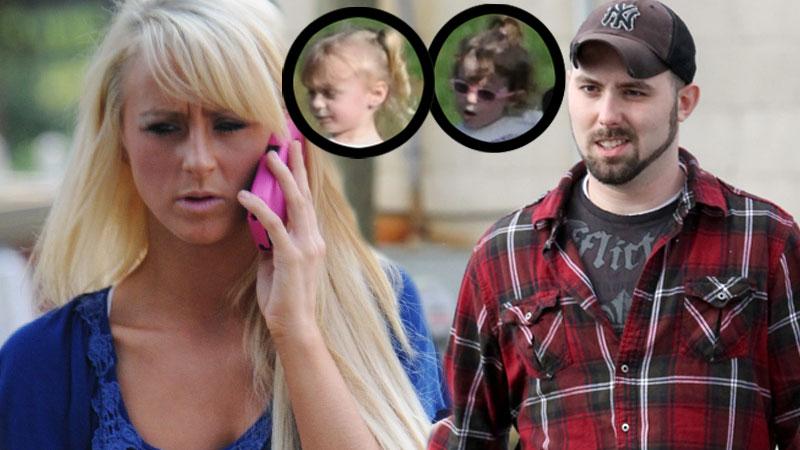 The truce didn't last long!
As RadarOnline.com exclusively reported, Teen Mom 2 star Leah Messer and her first ex-husband, Corey Simms, finally came a joint custody agreement over their 5-year-old twins, Ali and Aleeah, last December.
But seven months later, the protective pop, 25, is once again working with West Virginia power lawyer Rusty Webb to fight for full custody of his girls, RadarOnline.com can reveal. (Webb did confirm Simms as a client, but refused to comment on the case.)
Article continues below advertisement
"With her drug and emotional issues, Corey doesn't think Leah is in any shape to be a good mother right now," an insider explains to RadarOnline.com. "He will stop at nothing to make sure his girls are in safe hands."
Messer, 23, who as RadarOnline.com revealed earlier today, is dating much older personal trainer Theodore "T.R." Dues, is currently undergoing treatment in a facility across the country. RadarOnline.com first reported the mother of three's problem with prescription painkillers last year.
When Messer caught wind of Simms' plan to take the twins away, she initially refused to go to rehab until the problem was sorted out, insiders reveal. But Simms hesitantly agreed to hold off on legal proceedings until she finishes treatment.
But in a bit of good news for Messer, insiders insist her most recent ex husband, Jeremy Calvert, 27, won't be attempting to gain full custody of their 2-year-old daughter, Adalynn.
"When Leah comes home, they will share joint custody of Addie," a source says. "Jeremy doesn't want to take his daughter away from her mom."
For now, with mom far from home, Simms is taking care of Ali and Aleeah, while Calvert and his parents have Adalynn.
Messer's mother, Dawn, and sister, Victoria, are also stepping up to help the girls, sources tell RadarOnline.com.
Hopefully she returns from rehab in tip-top emotional health, because life will just be getting bumpier.