Exclusive
Scientology Secrets! Kirstie Alley Scrambling To Seal Deposition In Bombshell New Lawsuit Over Fears Of Exposing The Church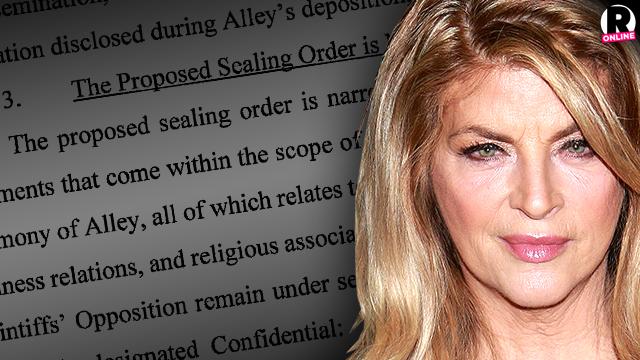 Kirstie Alley will defend Scientology at any cost! RadarOnline.com has learned that the actress is fighting to keep details about her Scientology beliefs, personal, and financial information from being made public in a new lawsuit.
As RadarOnline.com reported, Alley has been named, along with her controversial diet company, Organic Liaison, as a defendant in a lawsuit over an alleged Ponzi scheme, spearheaded by prominent Scientologist, Michelle Seward.
Article continues below advertisement
On December 1, 2014, "after a prolonged period of negotiating dates for Kirstie Alley's deposition," the deposition took place, but it was placed under seal, according to court documents.
Lawyers for plaintiffs Jeffrey and Marguerite Stabile want portions of the deposition unsealed.
However, lawyers for Alley are fighting to keep it under wraps.
"Alley is a world-renowned actress with significant media interest in her activities. Consequently, the deposition transcript created in connection with her deposition has economic value to the media and to tabloid publications and/or is of interest to the media and to tabloid publications such that the parties stipulated to a protective order limiting the use, disclosure and dissemination of her deposition testimony and transcript," the attorneys said. "There is a great likelihood that disclosure of Alley's personal and confidential information will be misused by the media to publicly harass, annoy, embarrass, and unduly burden Alley."
"Not only is there significant media and tabloid attention given to celebrities in general but so too is there enormous media and tabloid attention surrounding the Church of Scientology and any celebrity involvement therewith," the documents state. "In order to avoid any damage to or public or private harassment of Alley through the dissemination, disclosure, or publication of private, confidential and/or proprietary information disclosed during Alley's deposition, the record must be sealed."
A hearing has been scheduled for June 15, 2015 to determine if the transcripts were be unsealed.
A rep for Alley didn't immediately respond to request for comment.