Cannes Craziness! Kim Kardashian Says 'Drunk Naked Woman' Woke Her Up Pounding On Hotel Door –– Claims She's 'Never Tolerated Drinking'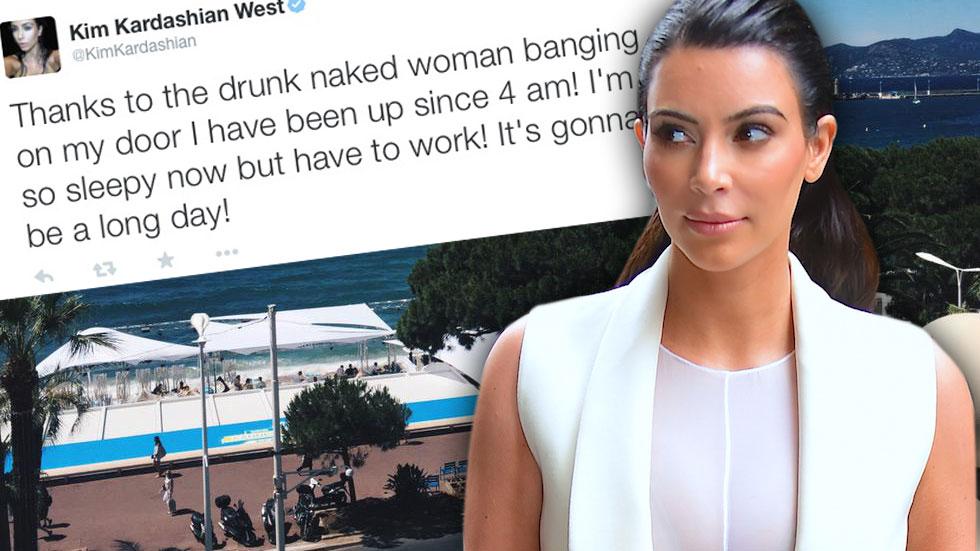 It's not like she needs the beauty rest, but Kim Kardashian missed out on a good night's sleep Tuesday after a "drunk naked woman" pounded on her hotel room door in France.
The Keeping Up With the Kardashians beauty took to Twitter to complain about the late night shenanigans, writing, "Thanks to the drunk naked woman banging on my door I have been up since 4 am!
"I'm so sleepy now but have to work! It's gonna be a long day!"
Article continues below advertisement
The reality star, of course, didn't let the moment pass without getting it on camera, boasting that she "took a fun video of" the woman, who she called a "Slob kabob.
"I won't post it but it's funny!" the pregnant 34-year-old beauty wrote, adding that the incident was a clear "reminder of why I never tolerated drinking 2 much!"
Kardashian, who arrived in Nice Tuesday ahead of the Cannes Lions festival, wrote that the woman mistook her one of her credit cards for her room key, and probably "just had the wrong room" number.
She added, "I hope I run into her today."