Governor To The Rescue! Duggars Hire Mike Huckabee's Political Advisor To Clean Up PR Disaster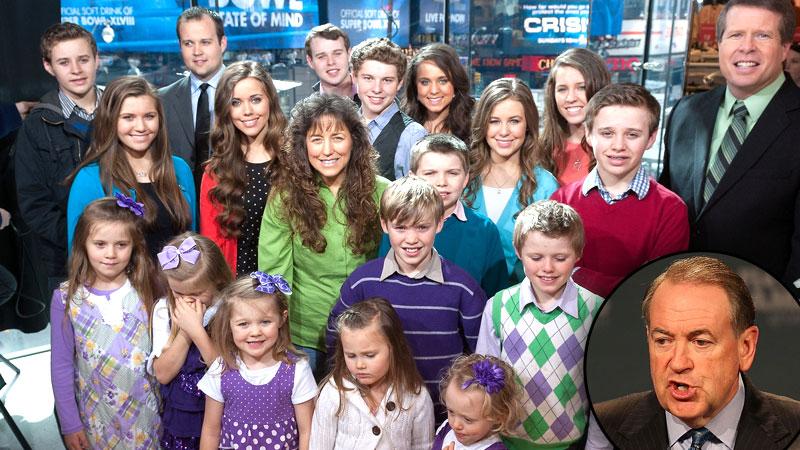 When Josh Duggar admitted to sexually molesting five minors – including four of his sisters – as a teenager, the family lost almost all support, especially from their advertisers and financial backers. Luckily for TLC's once-favorite family, former Arkansas governor Mike Huckabee was one of the few supporters to swiftly declare allegiance to their tainted name.
According to Huckabee, Josh's behavior was "nexcusable" but not "unforgivable," inspiring the politico to step in and offer some alleged "clean-up" assistance.
Article continues below advertisement
Now, CNN Money reports that Huckabee's own political advisor Chad Gallagher has swooped in to aid the reality TV family's PR nightmare.
The former governor's relationship with the Duggars clearly goes beyond professional courtesy, as Point Talks Memo shed light on Huckabee's campaign website after Jim Bob and Michelle Duggar's generous endorsement mysteriously disappeared from its contents.
After a bombshell interview with Fox New's Megyn Kelly, the Duggars could use all the publicist help they can get.
Despite attempting to patch up any harm done during the exclusive sit-down, Michelle, Jim Bob and proclaimed victims Jessa and Jill Duggar only seemed to make matters worse. Behavioral analysts even suspect that the family had been "lying throughout the entire interview."
Will PR tycoon Chad Gallagher be able to save the day for the Duggars? Let us know in the comments below.