Exclusive
Jail For Josh? Shamed Duggar & Dad Jim Bob LIED Under Oath At Least Three Times In Secret Civil Court Case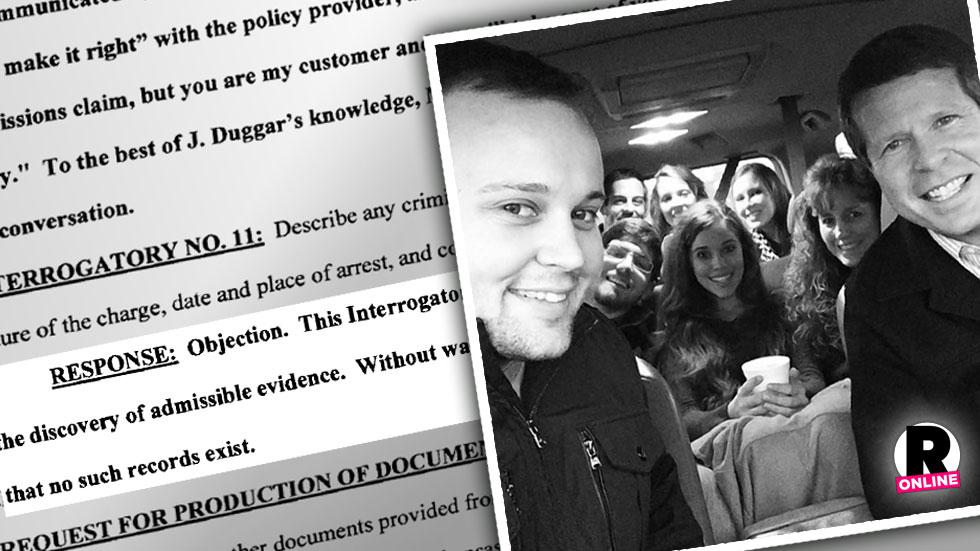 Before the bombshell reveal last month, the Duggars had been desperately attempting to hide Josh's sick past of sex abuse for years— and they would go to any lengths to keep it hush-hush.
Now RadarOnline.com can exclusively reveal that both Josh and Jim Bob went so far as to lie under oath about their history with police during a secret civil court case.
In August 2013, the 19 Kids And Counting patriarch, 49, and his eldest son, 27, sued Acceptance Casualty Insurance Company and Joe Brown Insurance Agency for nearly $85,000 over an insurance deal gone wrong.
Article continues below advertisement
The Duggar men, co-owners of second-hand car dealership Champion Motor Cars, argued that the insurance company did not dutifully honor a claim after 91 of their cars were damaged by a hailstorm.
READ THE SHOCKING COURT DOCUMENTS
Though the case was of a civil and not criminal nature, the defendants sent a list of questions, or interrogatories, about the Duggars' pasts as part of the legal process.
In Washington County Circuit Court documents exclusively obtained by RadarOnline.com, Jim Bob and Josh were asked to "describe any criminal records you may have, including the nature of the charge, date and place of the arrest, and conviction, if any."
"The Plaintiffs state that no such records exist," they responded.
"Please produce copies of any reports, statements, or other documents provided from or to the Springdale Police Department, Washington County Sheriff's Office, or the Arkansas State Police," the defendants asked next.
"The Plaintiffs state that no such records exist," they replied.
However, as RadarOnline.com readers know, Josh and Jim Bob have a long history with the Springdale Police Department, Washington County Sheriff's Office and the Arkansas State Police relating to the younger Duggar's sexual assaults on five minor females, including at least two of his sisters, between 2002 and 2003.
Article continues below advertisement
According to Springdale Police Department documents revealed to the public in May, Jim Bob and Michelle first met with a Washington County Sheriff's Office detective about allegations against their son in 2006.
During that interview, Jim Bob confessed that he and Josh met with an Arkansas State Police officer about the grave matter in 2003.
By the time an investigation was launched, the statute of limitations had ended, meaning Josh could entirely avoid prosecution for his crimes.
Both Jim Bob and Josh would have had access to these records, but neither wa honest in the interrogatories responses seven years later, which were answered under oath.
In addition, Jim Bob told another lie in the same set of interrogatories.
"Have you ever filed any other civil suit?" the defendants asked.
"Plaintiffs have not filed any other civil suits," the father/son pair answered.
But as RadarOnline.com exclusively reported, Jim Bob filed a civil lawsuit against tenant James Penny and Wireless Technologies Corporation in 2003.
Article continues below advertisement
The case, which involved a motion for a temporary restraining order against Jim Bob, eventually ended in the father of 19's favor.
Though Jim Bob and Josh were never called out for their lies in the car insurance suit, they lost the case anyway.
According to Arkansas law, Jim Bob and Josh could be charged with false swearing, a misdemeanor carrying a sentence of up to a year in jail, for lying in their responses to the interrogatories.
However, the statue of limitations is only a year, and they submitted their responses in November 2013.
It looks like the Duggars once again got away with their crimes.