Mother-Daughter Deal? Jessica Simpson's Mom Tina Pushing For Rehab, Claims New Report -- For Both Of Them!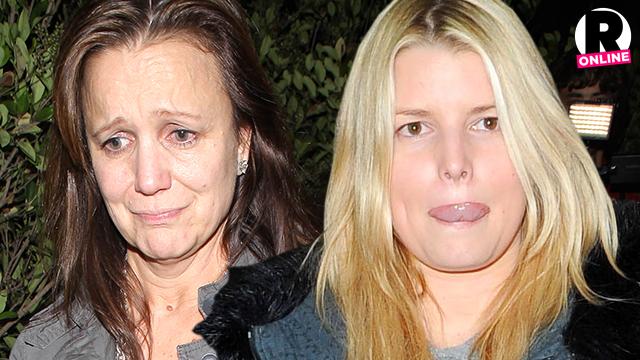 Jessica Simpson's wild ways are catching up with her and now her own mother is pushing her to go to rehab, according to a new report. And if it helps seal the deal, sources say, she's willing to go with her too!
Jessica, 34, was seen "slurring and stumbling," at her brother-in-law Evan Ross' June 4 performance at The Sayers Club in Los Angeles, an eyewitness told Life & Style magazine.
So now, Tina, 55, wants her daughter to get help and is "suggesting they do it together," the magazine claims.
Article continues below advertisement
"Jessica's drinking has gotten out of control, and she uses Adderall as a diet drug," a source explained about the Dukes of Hazzard star. "One minute she's fine and the next minute she's talking nonsense and acting all crazy."
So her mother, who "drowned her sorrows in vodka," while splitting with Joe Simpson in 2012, is planning to try and convince her daughter that the two can get help side by side, the source claimed.
The matriarch of the family, who is now engaged to Jon Goldstein, wants to make sure she puts any potential issues "squarely behind her before she walks down the aisle."
So her solution is simple. "Going to rehab with Jessica means she can kill two birds with one stone," the source told L&S. "Tina sees it as a win-win for mother and daughter."
Do you think Jessica and her mom should go to rehab together? Sound off in comments below.