Faking Flawless? Fit Mom Sarah Stage Denies Photoshopping Instagram Photo -- Fans Are Angry!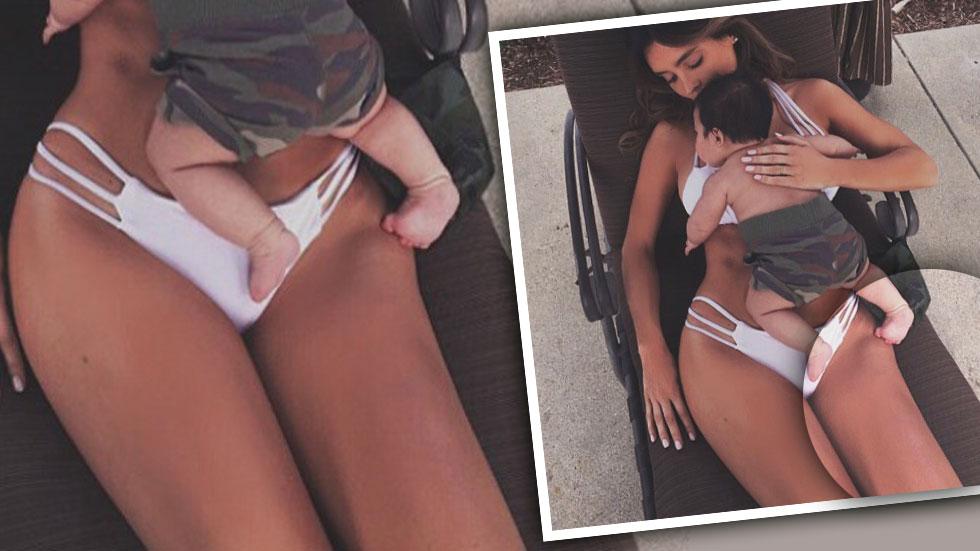 Fit model and recent mother Sarah Stage sparked controversy across the internet when she posted a picture of herself with chiseled abs a mere three weeks after giver birth! Now, fans are throwing a flag on the play after Stage posted what they are calling a photoshopped picture!
Stage posted a picture to her Instagram account, holding her infant son as she lounges in a bikini. People reports that fans were quick to call her out for some suspect shading near her hip. "Photoshop – what is that above your leg," one user asked.
Article continues below advertisement
"I so supported your page thinking you were a great motivation for fitness...then I saw this Photoshopped picture," another commenter said. "Can we please stop worshipping women who Photoshop themselves and represent unrealistic standards?"
Stage blamed the baby for the issue. "He's pushing on my thigh, not that serious," she explained.
A few self-proclaimed photoshop experts chimed in, agreeing that the baby was causing the shading, while fellow model Katy Evans vouched for Stage's real-life body. "Sarah doesn't need at all to Photoshop her photos... I've seen her in person at castings and she is just as fit and beautiful as she is in her photos! Jealousy and judgment are distasteful! Be nice!!! Sarah, you and your family are beautiful! Ignore the haters, I know you do!"
Take that, fatsos! Do you believe Stage's explanation for Thigh-Gate?