Presidential Election 2016
Land That I Love! Donald Trump Clarifies Statements On Mexico & Its 'Great People'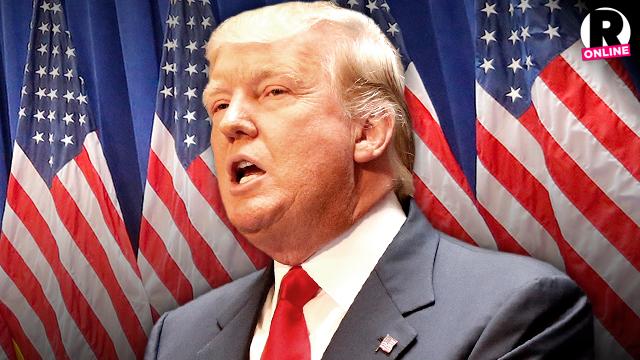 Donald Trump won't let anyone put words in his mouth! After some backlash over comments he made about Mexico in his first campaign speech, the business mogul spoke out on Friday to clarify his statements — and slam those who would attempt to "distort" his meaning.
"I am personally offended by the main-stream media's attempt to distort my comments regarding Mexico and its great people," he said in a statement titled "Donald J. Trump's Statement on his Great Respect for Mexico."
Article continues below advertisement
"My views have been consistent and totally clear, but inaccurately reported," he continued. "I have many successful business relationships with Mexican companies and enjoy, and am close friends with, many Mexican people. I also have tremendous respect for the leaders of Mexico, who, frankly, are much smarter and tougher than our politicians here in the United States."
"The disappointment I expressed relates to our incompetent politicians and their failed trade and immigration policies," Trump explained. "We cannot allow illegal immigrants to pour into our country. We can barely support our own, much less continue to allow millions of people of many different nationalities to enter our country illegally across an unprotected and porous border and take much needed jobs from American citizens."
"Further, this is an issue of national security that should be of great concern," he stated. "It is a matter of fact that Mexico has some of the toughest immigration laws in the world — policies that we should consider ourselves. Our country owes $18 trillion dollars and that number is rising fast."
"We are in serious trouble, economically and from a security perspective, and we need leaders who are intelligent, truthful and tough in order to negotiate deals with countries like Mexico, and many others, that will Make America Great Again."
The statement came one day after Univision announced the network would not air Trump's Miss USA pageant because of his earlier remarks. Miss USA co-host Roselyn Sanchez also announced she was cutting ties with the show.
However, despite the media distraction, voters seem to have seized upon Trump's message: Recent polls show him at second place among Republicans in the crucial campaign state of New Hampshire.