Exclusive
Field Fallout! UCLA Coach Alosi Could Be Fired After Diddy Fight PLUS Charges For The Rapper?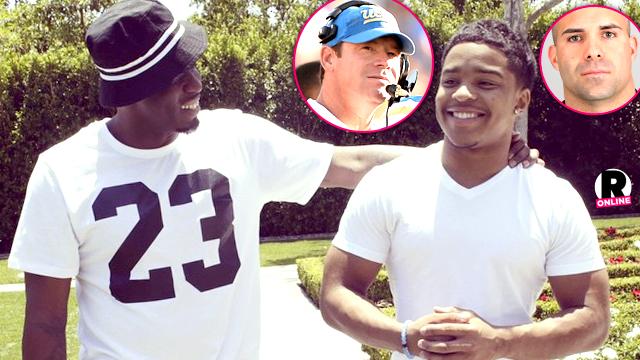 Diddy still faces charges after allegedly attacking UCLA football coach Sal Alosi Monday. But RadarOnline.com has learned it's Alosi who could be facing the most serious consequences of the fight.
Mora "isn't happy with Alosi, but needs to support him. It will look bad if Sal is abruptly fired because of the incident with Diddy," a source close to the situation told RadarOnline.com. "UCLA is also VERY hesitant to fire Alosi presently because they are afraid of wrongful termination lawsuit."
Article continues below advertisement
A second source told RadarOnline.com that getting rid of Alosi could pose a problem for the staff, but that he is unpopular among colleagues.
"It's all political, but a lot of people want him gone," the source said. "Diddy of course also wants him Alosi gone."
Meanwhile as the football season approaches for the team, the first source told RadarOnline.com that Mora is "losing his mind over all of this because it's become such a distraction."
Combs was booted from practice Monday and has missed practice ever since, not appearing on the field with his teammates either Tuesday or Wednesday, RadarOnline.com confirmed.
But it's unlikely they miss him. Former UCLA coach Rick Neuheisel said it was "doubtful" Combs would have been put on the team without a famous father.
"When you're weighing the assets of what a youngster can do for your program, there's no question being Diddy's son had something to do with it for me," Neuheisel, who recruited Combs, said on his SIRIUSXM radio show.
Article continues below advertisement
"Justin is a great kid. His problem was his size. He's not big enough to be a dominant player," he said. "Could he be productive? Yes. The fact his father was an influential guy played into my decision to go ahead and offer him."
Now, trouble is just beginning for Diddy, according to a source.
His fight with Coach Alosi exploded after he tossed the rapper's son Justin Combs out of practice on Monday. A conversation turned violent when Diddy allegedly swung a kettlebell at his adversary.
An insider told RadarOnline.com, "The District Attorney is more than willing to proceed with prosecution and charges against Diddy, even if UCLA doesn't cooperate. Diddy isn't off the hook because UCLA doesn't want to pursue charges. There is surveillance video that caught Diddy swinging the weight around, and that is enough to bring criminal charges."
Do you think Coach Alosi should be fired? Sound off in comments below.