Caught Ya! RHOA Cynthia Bailey's Husband Peter Thomas Caught Getting Cozy With Mystery Woman -- Peter Apologizes To Wife And Daughters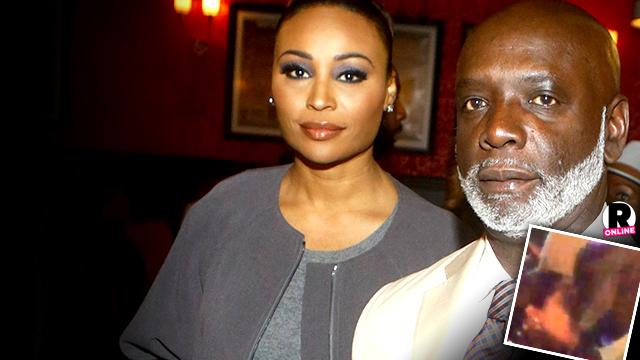 Real Housewives Of Atlanta star Peter Thomas was caught getting cozy with a woman who was NOT his wife, Cynthia Bailey!
Rumors have swirled in the past about Peter being unfaithful to his wife -- he even complained on national television that his sexual needs were not being met while Bailey was suffering from painful fibroids! But now, Peter has been caught on a video obtained by The Shade Room in which he appears to be pulling back from a tender kiss with a young woman in a nightclub and running his hand down the front of her blouse.
Article continues below advertisement
https://instagram.com/p/3-QfODS2ET/?taken-by=theshaderoominc
After the release of the video, Thomas released his own video over Twitter and Instgram, before quickly deleting it. In the tweet, he said "These people, my 5 years anniversary is next month and everybody been trying to trip my ass up." His video, also obtained by The Shade Room prior to it being deleted, shows Peter both denying an affair and apologizing to his wife and daughters.
https://instagram.com/p/4AKgSES2K2/?taken-by=theshaderoominc
"There's stuff all over the Instagram that made me look like a big ass cheater. Ok, that's not what it is. That's a friend of mine in the club that I was talking to. It looks crazy, I know it does, so I'm apologizing to my wife, I'm apologizing to my two beautiful daughters, ok. Your daddy's not a cheater."
Bailey's rep could not be reached for comment.