Exclusive
Broken Home! Charleston Church Shooter Dylann Storm Roof's Parents Split Three Years Before He Was Born — Inside Their Bitter On-Off Love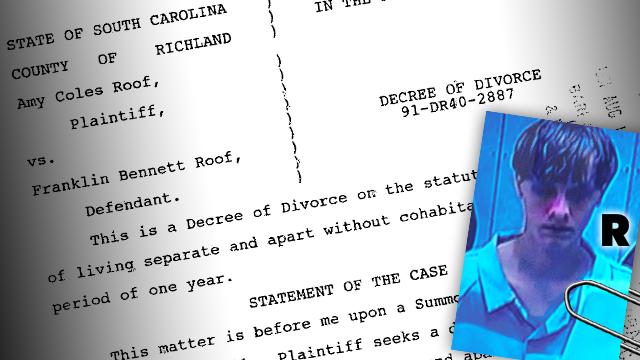 As the world looks for clues about what turned Dylann Storm Roof into a cold-hearted killer, RadarOnline.com has obtained shocking court records that reveal why his childhood years may have taken a serious toll. According to his parents' divorce decree, Dylann was the unwitting victim of a tumultuous marriage — and was born three years after his financially troubled parents split!
Dylann's parents Franklin Bennett Roof and Amy Coles Roof were married on February 20, 1998, when Amy was roughly five months pregnant. Their daughter, Amber, was born four months later on June 15, 1988. Nearly two years later, they split up in June, 1990.
Article continues below advertisement
The divorce was finalized in June 1991, according to court documents obtained by RadarOnline.com. A judge stated, "Prior to the hearing, the Court inquired as to the possibility of reconciliation between the parties, but concluded that such was not possible." However, nearly three years after their divorce became final, Franklin and Amy got back together — at least long enough to produce Dylann.
Dylann's father was ordered to pay his mom $200 per month in child support for their daughter, Amber, but no record of any support for Dylann has been found.
At the time, Amy's monthly income was a meager $1,776.66.
She claimed she paid $200 per month in rent, $180 per month in supplies and food, and more, adding up to total expenses of $1,140.11. She had just $200 in cash on hand, according to the documents, and listed no savings or checking accounts.
Article continues below advertisement
Dad Franklin claimed to have just $10 cash on hand in filed court documents, and had a measly $100.80 in the bank. He stated that his life insurance was worth $20 cash.
At the time, neither Franklin nor Amy could have predicted that they would reunite to have yet another child, Dylann, together in 1994 — nor that he would grow up to be a sick killer.
As RadarOnline.com has reported, Dylann was identified Thursday as the gunman in a brutal massacre in a South Carolina church that killed 9.He was arraigned in South Carolina on Friday, after being extradited from North Carolina. He is currently on suicide watch, according to reports.