Exclusive
Showdown! Kris Jenner Enlists Rob Kardashian In Secret Plan To Steal Caitlyn's Thunder At ESPY Awards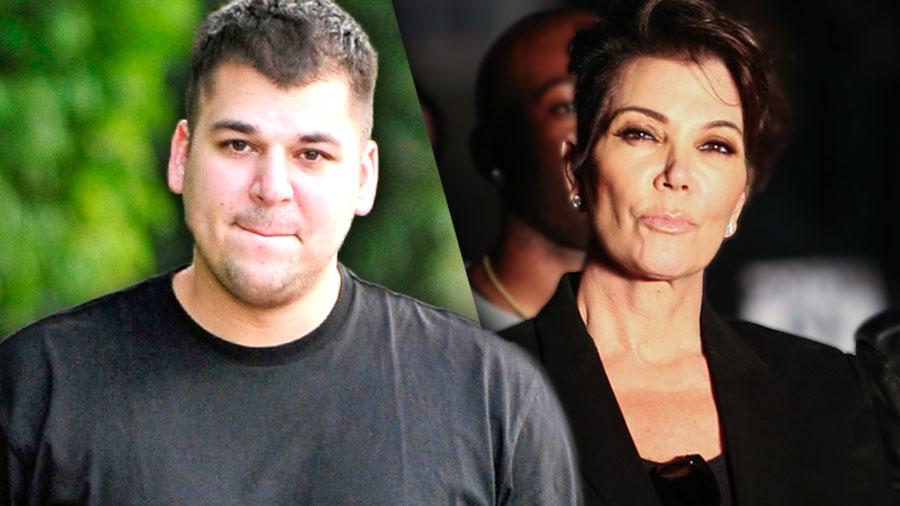 It was supposed to be Caitlyn Jenner's triumphant moment. But RadarOnline.com has learned that if Kris Jenner gets her way, all eyes will be on someone else at the ESPY Awards next month: her son Rob Kardashian! According to an insider, Kris wants to upstage her ex by debuting a slimmed-down and healthy Rob at the event, but there's just one problem. Rob doesn't want anything to do with her plan.
As RadarOnline.com reported, Caitlyn's family members will join her onstage as she receives the Arthur Ashe Courage Award. But "Rob has no interest in going to the ESPY awards and going on stage," an insider told RadarOnline.com.
Article continues below advertisement
"Rob fully supports Caitlyn, but remains in a dark place and doesn't want to go out in public because he isn't comfortable with his physical appearance," the source said.
Mom Kris has pressured him to make a big change before the event by sending over her chef to cook for him and setting up training sessions, said the source, "but he has shut it down."
"Rob will get back on track according to his terms, and no one else's," the source said.
As RadarOnline.com reported, Rob didn't know that Caitlyn had made her debut until his sister Kim forwarded him a copy of the Vanity Fair cover. And the photos left him seriously confused, Kim told Access Hollywood Live last week.
Rob looked at the magazine cover and asked his sister, "Why are you sending me this? Who is this woman and why do I care?" Kim said that while her four sisters knew about the upcoming reveal, Rob "had no idea," but was charmed when learning the identity of the cover girl. "I was like, Rob, that's Bruce — that's Caitlyn. And he was like, "Oh my god, she's beautiful,'" she said. The reclusive Kardashian brother then called Caitlyn, where the two engaged in a discussion Kim summed up as "a love fest."
So now, he wants nothing to do with Kris' plan to steal the spotlight. According to the insider, "Rob thinks it's twisted that his mom wants to use him to upstage Caitlyn's big night."