Exclusive
New 'Teen Mom' Baby! Chelsea Houska & Boyfriend Cole DeBoer Expand Their Family –– See The Cute Photos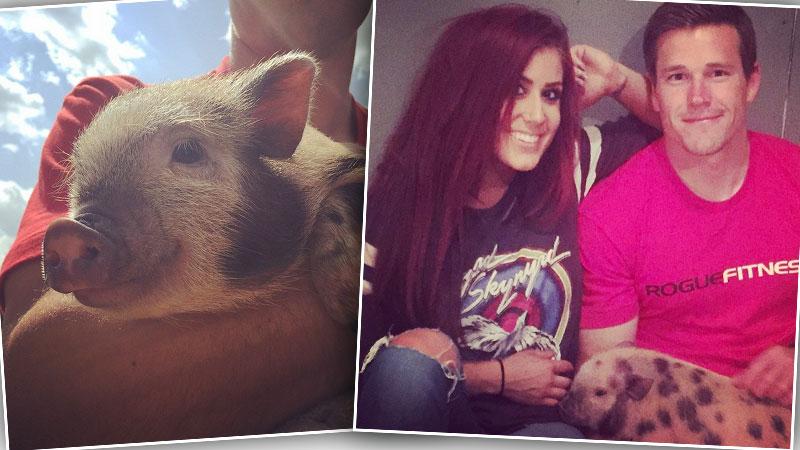 Unlike many Teen Moms, Chelsea Houska has been taking things slow with her boyfriend of nearly a year, Cole DeBoer. But the South Dakota couple just took a pig, err big, step in their relationship.
The Teen Mom 2 star, 23, and her handsome man have adopted an adorable pet piglet!
Baby Pete made his Instagram debut over the weekend in an adorable video.
"HI PETEY!" Houska wrote on May 2. "Welcome to the family beebee!"
Article continues below advertisement
https://instagram.com/p/2MlNwDHawS/?taken-by=chelseahouska
She also showed off a pic of Pete and her equally cute 5-year-old daughter, Aubree.
https://instagram.com/p/2PKv8Dna4Q/?taken-by=chelseahouska
Houska, who also has a Great Dane named Phil, didn't purchase the piglet on a whim, however.
"Chelsea has wanted a pig since she was little," a source close to the MTV star exclusively tells RadarOnline.com. "She put a lot of research into it. When she bought her new home, she knew she would get one eventually."
After meeting DeBoer, 26, last summer, the traffic control specialist wanted in on the new addition.
"Cole has always wanted a pig, too, so they decided to get one together," the source adds.
Houska's boyfriend also gushed about his new pet on Instagram.
"Pete is so sweet!" he wrote.
https://instagram.com/p/2MbRUSS1SR/?taken-by=coledeboer
According to the insider, Pete will primarily live at Houska's sprawling four-bedroom home.
Congratulations to the cute couple on their new family member!