Another Broken Wineglass? Ramona Singer Attacks Heather Thomson & Countess LuAnn De Lesseps -- WATCH The Bitter Argument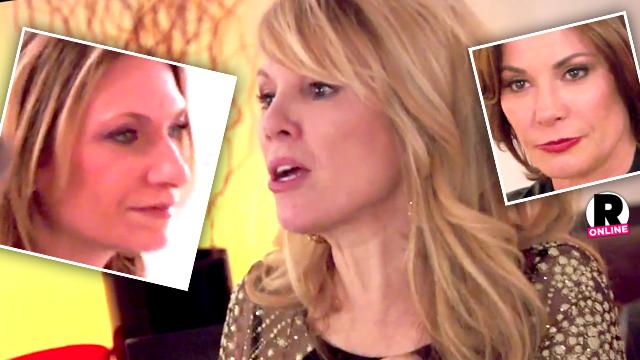 So much for a new and improved Ramona Singer! The newly single Real Housewives of New York star got into another bitter fight with her co-stars -- but did not throw a wine glass this time -- and RadarOnline.com has the video. ​
It all went down at a dinner with Countess LuAnn de Lesseps, Heather Thomson, and Dorinda Medley.
In a preview clip for the episode, the women start rehashing how the group has changed for the better over the years, and Thomson delivers a compliment to Singer -- or so she thinks.
Article continues below advertisement
"You've changed," Thomson tells Singer. "Even the three years I've known you, there's been a metamorphosis."
But Singer won't take a compliment.
"Dorinda always saw me the way I was," she says. "To people like lets say, you Heather… to people like you and people like you de Lesseps, you do have this evasive wall up."
"Dorinda's very welcoming," she says. "So if she's welcoming, I kind of bring down my wall so I can be myself."
Thomson, irritated, insists she was just trying to be kind.
"I'm like, 'What the f*** is wrong with her? Are you kidding me? Really?'" Thomson says in a confessional.
But Singer is not done attacking her costars.
"In all sincerity, Heather and LuAnn, you have this kind of wall up or insincerity toward me and I'm not going to break it down," she tells them. "I can't be bothered."
"Oh honey, that was your wall," Thomson says.
Article continues below advertisement
Singer responds, "I'm trying to share something with you and you're being aggressive. Just forget it."
Thomson is not having Singer's outburst, however.
"Ramona, chill out a little bit," she retorts. "Okay, relax. What I'm trying to say to you is we did not get off on the right foot together. I have seen a lot of change and growth in you as a person."
Unfortunately, Singer is on the defensive too.
"But Heather, I was always this way," Singer insists.
De Lesseps butts in, "Oh, let's not exaggerate. You had a preconception about Heather very early on. She's not Mrs. innocent, hello."
Singer has heard enough, and storms out.
"Every once in a while, Ramona slips up and it's like we see the old Ramona coming out," De Lesseps says of Singer's words and actions. "So I think that she felt like, let's just sweep this under the carpet and move on because that's what Ramona does."