A New Low! Kendra Wilkinson Rips Mom: 'The Devil Has Eaten Your Soul'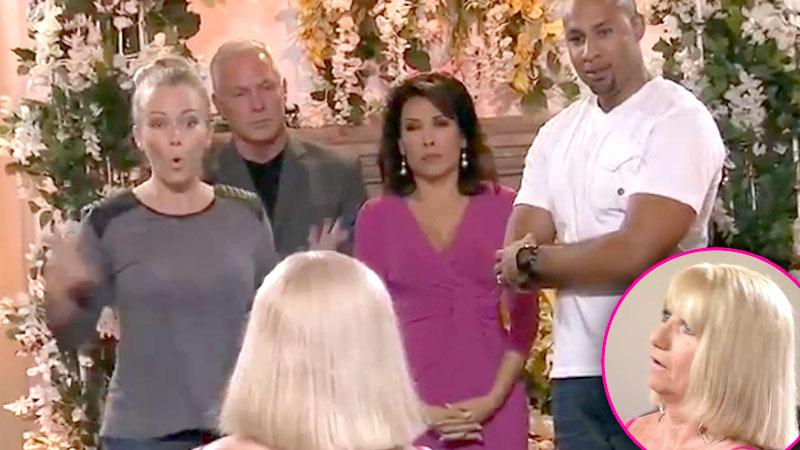 Kendra Wilkinson's feud with her mom Patti has reached a new low! In their latest screaming fight, Kendra loses her temper and tells her mother "the Devil has eaten" her soul, and RadarOnline.com has the video.
The Playboy model and her husband Hank Baskett, who was caught cheating on her with a transsexual model, are appearing on Marriage Boot Camp: Reality Stars. In the latest preview clip, they are seen going through a mock wedding to fix their broken relationship when her mother shows up unexpectedly to cause trouble.
Article continues below advertisement
Patti stand up in the audience to object as her daughter and Baskett try to renew their vows.
"I get the impression, the feeling that you hate me," Patti says to Kendra, who unleashes an epic rant on her mother.
"The Devil has eaten your soul, the Devil has eaten your soul!" Kendra screams at her mother, who retorts "Oh my God, you're so full of drama."
The two women lash into each other, with Kendra crying: "You sell us out ... what the hell is your problem?" and her mother yelling: "You are crazy Kendra."
Kendra can't contain her anger, and reminds her mother that she felt betrayed by her interview with RadarOnline.com in 2014.
"Right after I thought my husband cheated on me, you sell my tears ...!" and Patti coldly tells her daughter that she might release text messages that show her daughter's mean streak.
Check out the video and tune into the new season of Marriage Boot Camp: Reality Stars begins on Friday, May 29 at 9pm on WE tv and also features Mike 'The Situation' Sorrentino, Tami Roman, Jeff Schroeder, Jordan Lloyd, and Aubrey O'Day.