Exclusive
Shameless! Monster Mom Kate Gosselin & Bodyguard Bring Kids Along To Favorite Lovers Vacation Spot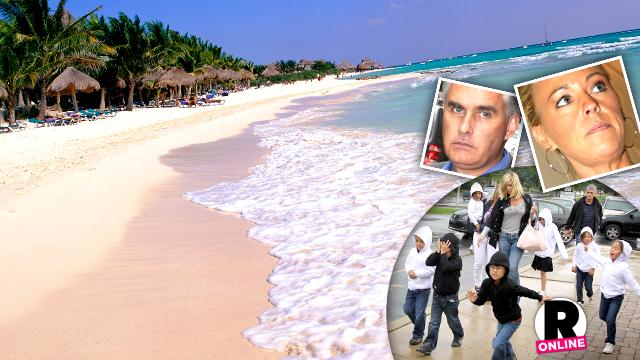 Kate Gosselin doesn't seem to have a problem bringing her eight young children along on a lovers' getaway!
RadarOnline.com can exclusively reveal that the Kate Plus 8 star and her longtime bodyguard/rumored boyfriend, Steve Neild, celebrated her 40th birthday in Mexico, where they were once reportedly caught getting hot and heavy in never-released shocking photos.
According to fellow vacationers, Gosselin, Neild and her infamously large brood— 14-year-old twins Mady and Cara, and 10-year-old sextuplets Aaden, Collin, Joel, Leah, Alexis and Hannah—spent a relaxing few days in Playa del Carmen, Mexico, on the weekend of March 28.
Article continues below advertisement
On Sunday, March 29, a fan spotted Gosselin and Neild dining at Playa del Carmen eatery 100 Natural.
During the tropical getaway, another fan saw Gosselin and her two eldest daughters shopping around town.
Kate tweeted about returning home to Pennsylvania after a "breathtakingly beautiful" trip— but failed to mention that Neild joined the family.
"Had THE most wonderful birthday wkend w my kids in a sunny warm breathtakingly beautiful location!" she tweeted on Monday, March 30.
As The National ENQUIRER recently reported, Gosselin and Neild were photographed "getting intimate" while in Mexico together a few years ago. However, her TV network, TLC, allegedly bought the shots to avoid a scandal.
The reality mom and her ex-husband Jon, 38, split in 2009 amid cheating accusations on both sides.