Safe Or Seriously Delusional? Kanye West Demands Same VIP Protection As John Kerry For 'Zoolander 2' Shoot In Rome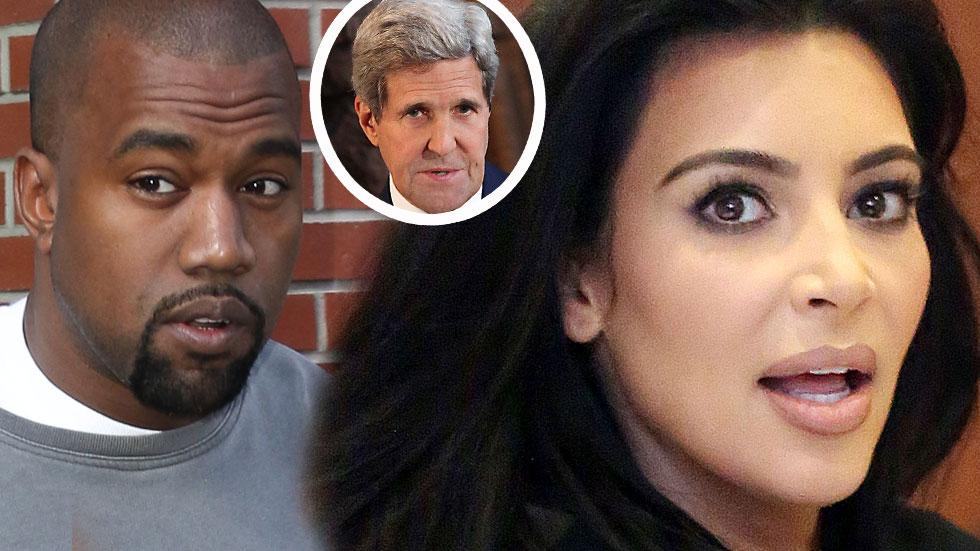 Kanye West wants a security force normally reserved for political powerhouses like John Kerry, when he visits Rome with Kim Kardashian to film a cameo in Zoolander 2.
The "Paranoid" rapper has already dispatched underlings to check out the Baglioni hotel, where the U.S. Secretary of State Kerry exclusively stays with a troupe of a dozen bodyguards armed with machine guns.
"Kerry stays at the iconic Baglioni because it's directly across the road from the U.S. Embassy, and he has an army to protect him with machine guns and soldiers at the ready," an insider told RadarOnline.com exclusively. "Kerry was there four months ago to meet Israeli Prime Minister Benjamin Netanyahu," who "also stays there, so you can imagine how clued up the hotel is to security.
Article continues below advertisement
"And that's Kanye's main mode of thinking these days."
The "Hold My Liquor" singer "wants a similar set-up, as he's become increasingly paranoid about traveling with his wife and child," the source said, adding that the rapper's cautious about threats sent by "a lot of haters" directed toward himself and his family.
The couple -- who'll bring their toddler daughter North on the European trip -- aren't taking any chances on foreign soil.
"Rome's a dangerous place," the source said, adding that Kanye "wants top-level security in the rooftop suite, with 360-degree views and room for security on the entire floor below."
The insider said that while the super-couple are "excited" about appearing alongside A-listers Ben Stiller and Penelope Cruz in the long-awaited sequel to the 2001 hit, as "Kanye and Kim are both keen to appear in their cameo roles."
"North will also make an appearance in a Hitchcock kind of way with the camera just panning past her in a scene."