No Laughing Matter: Joan Rivers' Secret FBI File Reveals Gruesome Death Threats – Forced To Hire Cops As Bodyguards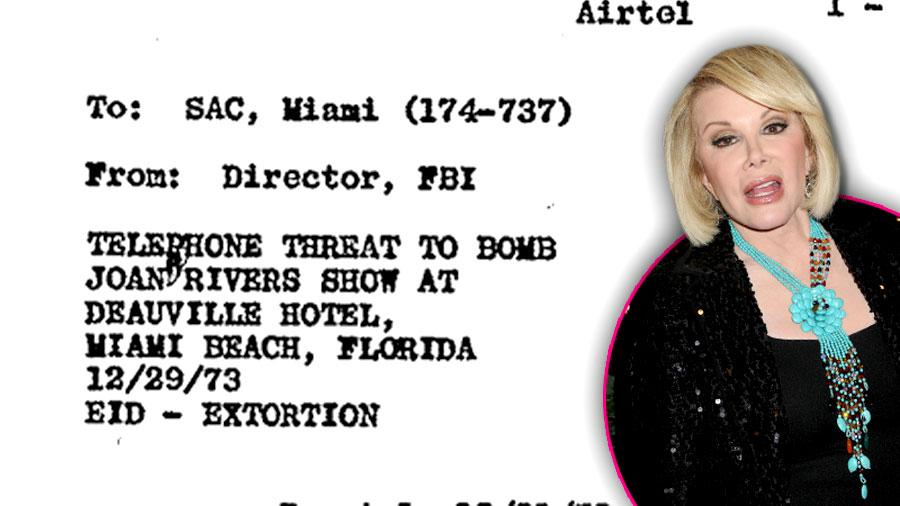 Joan Rivers always laughed in the face of adversity, but she was the victim of at least two vile threats upon her life from deranged stalkers – bombshell secret FBI files reveal.
The file, obtained by RadarOnline.com, details how Rivers lived under the threat of assassination from a fanatical Anti-Semitic bigot who promised her he would be, "watching… your every move."
"I shall go down in history as the person who found this movement," wrote "Mr. Clean" in a screed mailed in August of 1991.
Article continues below advertisement
"I am on a crusade to clean the world of the 2 biggest Jew money making promoters of Homo-sexuality on television and radio.
"This movement is crucial for the world's survival, that it must be started immediately."
The letter was addressed to "Queen Joan Rivers," and a second, unidentified media personality.
It was mailed to the care of a prominent New York City radio station and bore a Brooklyn, New York postmark.
"Just to let you know that I purchased a piece of exterminating equipment It is big and powerful. It will be messey (sic) but pain free almost," Mr. Clean warned Rivers.
"If I don't see you by the Jew New Year. I promise you it will be soon after."
The Federal Bureau of Investigation was never able to identify Mr. Clean. He is still at large.
Rivers was under attack for years, the FBI secret file reveals: A second, earlier threat upon Joan's life dates to December 1973, when she did a string of performances at Miami's Deauville Theater.
Article continues below advertisement
The FBI notes how Rivers turned over to them a telegram from a madman who promised, "to put a stop to your polish 'joke' routine at the Deauville."
"You have managed not only to ruin my Christmas holidays but you are also making me lose 10 days of sorely needed vacation," wrote the telegram's deranged writer before promising to return to Miami to silence Rivers.
"My people will no longer sit back supinely while a human cesspool spews her dirt on them. And for a jewess you should know better."
The FBI file notes that Rivers contacted them about the telegram after a maniac calling himself a member of "The Polish Underground," called the Deauville Theater on December 29, 1973 and said he was going to blow up the venue in 15 minutes.
She was sufficiently rattled enough to hire off-duty Miami Police officers to stand guard outside her hotel suite the secret FBI file noted, but they declined to investigate further after it was determined that the threats were made from someone locally and "of no interest federally."