Jennifer Aniston's Scientology Fears: Justin Theroux's Cousin Making Film Critical Of The Church— Will She Become A Target?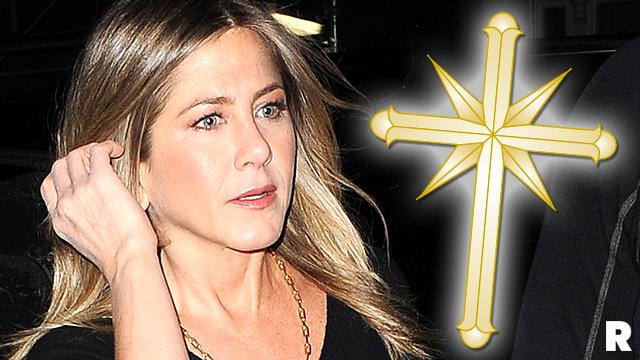 Jennifer Aniston is not a Scientologist, but according to a new report, she's afraid of her secret link to the church going public. Her fiancé Justin Theroux's cousin is working on an anti-Scientology film, and this has the former Friends star worried that she will become a target of the controversial church, according to The National ENQUIRER!
"Jen knows Scientology can play dirty, which is why she's always steered clear of them," said a source.
Article continues below advertisement
Scientology has already put a bull's-eye on British filmmaker Louis Theroux for his anti-Scientology project, sources said, and Aniston feels that she and Justin maybe collateral damage in the church's terrifying fear tactics.
"Jen worries Scientology will try to embarrass her by revealing details about everything from her divorce with Brad Pitt to her struggles with infertility to her estrangement from her mom!" said a pal.
"She's begging Justin to get Louis to drop his project."
Multiple reports in The National ENQUIRER, as well as a recent HBO documentary, have exposed allegations of the controversial religion's secret tactics, including blackmail, imprisonment and harassment.
Louis is working on his own indictment of the church in a BBC documentary titled, Stairway to Heaven: Louis Theroux & The Church of Scientology.
Despite Aniston's fears, however, he has no plans to scuttle the project.
"Louis is plowing forward," said an insider. "He's never used his connection to Jen to try to enhance his career, so he doesn't see why he should have to censor himself."
While a source said Aniston "heard through the pipeline" that she and Justin will be targeted if Louis' film is released, her pleas have fallen on deaf ears. In fact, they've caused considerable tension between her and Justin, sources said.