Exclusive
Steal That Style! Kris Jenner 'Fuming' After Ex-Husband Bruce Takes $150,000 Worth Of Gowns From Her Couture Collection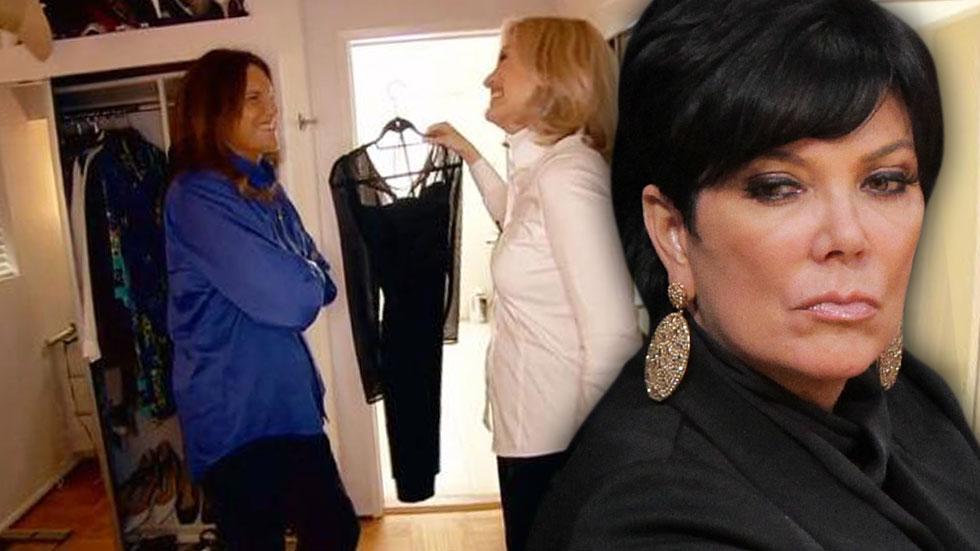 Bruce Jenner is prepping his ultimate glam room at the expense of one member of the family who's less than thrilled with the idea.
RadarOnine.com can exclusively reveal Kris Jenner was livid with her 65-year-old ex-husband after she found out he lifted items from her expensive wardrobe — to the tune of $150,000!
"Kris and her girls have a closet that's dedicated to all of their designer dresses made by the likes of Balmain and Prada," a source tells Radar.
Article continues below advertisement
"From time to time, they do inventory of the closet because there are so many expensive items and noticed that some of the garments were missing."
Now the women are sure the clothes culprit is none other than iconic Olympian Jenner, who recently sat down with Diane Sawyer for a bombshell interview to discuss his transition from male to female.
"Kim and Kris were really upset about it," notes the source, adding "Kylie actually saw the dresses in her father's closet in his new house and she didn't say anything because she didn't want to upset anybody."
Eventually, the youngest Jenner daughter shared her discovery with Kim, who in turn told her mom. "Kris went ballistic," the source tells Radar.
The 59-year-old matriarch has been cultivating her own museum-worthy couture collection for the future, and, reveals the insider, "Kris thinks the dresses will end up in the Smithsonian some day, so that's why she's fuming."
"The closet is dedicated to their gowns from events and she feels she should save them — especially Kim's — because they'll be very valuable one day."
Article continues below advertisement
The only problem? Bruce won't return them, and he plans to make the dresses his own by tailoring them to his less bootylicious frame.
"Bruce even said that Kris's are actually too big for him," laughs the source. "She's a size 10 and he's a size 6. So he's getting them altered."
And Bruce doesn't believe he should have to return any of the fashions since "they got the dresses for free from the designers and they aren't going to wear them again," explains the source. "They wear things once."
Still, momager Kris went as far as making legal demands in an attempt to get her ex-husband to give in.
"Kris threatened to sue him if he did not return the dresses," said the insider. "But she's since calmed down."
Watch: Bruce Jenner - Kris and I had a good sex life