Khloe Kardashian Fires At Bruce Jenner For Not Revealing His Transition Plans Sooner: 'It's Not Fair For You To Not Tell Your Kids This Sh*t!'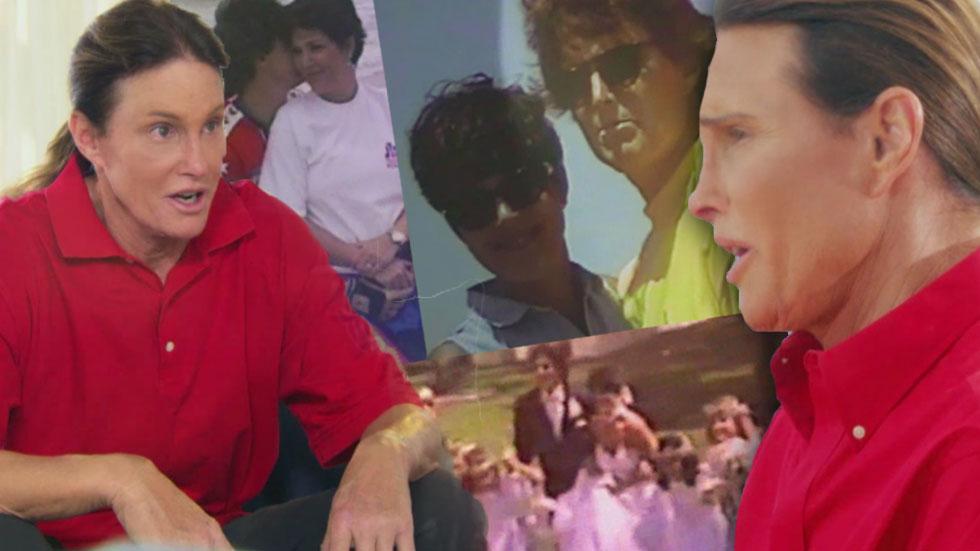 The life-long secret of Bruce Jenner's gender identity may have been revealed to his family, but there was another shocking confession the former Olympian kept that brought his children to tears: his transition from a male to a female.
On part one of Keeping Up With the Kardashians: About Bruce, the Kardashian/Jenner brood gave their raw response to the news that Bruce would be transforming into a woman in the spring. While his daughters gave their support, no one took the revelation more difficult than Khloe Kardashian.
Article continues below advertisement
"My sisters and I knew Bruce was a cross-dresser, but we were never told he was going to fully transition and become a woman," Khloe said in her confessional.
After gifting her stepfather shoes at his home, Khloe asked him, "Were you planning on not being Bruce anytime soon? When is Bruce going to be gone? Do you have a time frame?"
Bruce replied that he wants to become "Her" in the spring, which was four to five months away at the time of filming.
Khloe fired, "I don't think it's fair you don't tell us how close this is in the near future. It's not fair for you to not tell your kids this sh*t. We're still your kids!"
While the confession angered Khloe, it brought Kendall Jenner to tears.
"I just don't like when people say Bruce is going to be gone," she said. "It's scary when someone says Bruce is going to be gone. You make it feel that way."
Bruce said of his daughters' reactions, "Dealing with something like this is like a death in the family. It's a tough transition for the people around you."
Article continues below advertisement
But the transition wasn't the only shocker of the special for the reality stars, as Bruce revealed during a one-on-one chat with Kim Kardashian that he will be sharing his story with Diane Sawyer.
When Kim told her mother Kris Jenner of the revelations, the momager broke down too.
"I'm not okay," she said. "I don't know how to handle this. This is my life and I committed to this life. I think that he just checked out."
She added, "He said he had tendencies like that, but that wasn't even a discussion that he would in his life end up like this. I have these memories of this life. And I feel like sometimes it didn't exist."
In an attempt to have all of his daughters on the same page, Kourtney Kardashian, Kim, Khloe, Kendall and Kylie Jenner went to Bruce's house to discuss the transition together.
As Bruce explained that his transformation would involve "stages," such as procedures on his nose, upper lip, forehead, hairline and jaw to appear more feminine, Khloe texted to Kendall, "He's been planning this for probably a year and hasn't deemed it necessary to tell us any of it."
Article continues below advertisement
When Khloe continued to express her dismay over being left in the dark about the transition, Bruce said, "The last thing I want to do is hurt any of you. That is not my intention. If I'm not honest because I'm afraid to talk to you about this subject because I know it hurts. I understand that. Am I doing it right Khloe? You can never do this right. There is no right way to do this."
Watch the video on RadarOnline.com:
Also on the episode, his daughters shared their stories on how they first discovered their father cross-dressing.
Kendall explained, "We would find things like makeup and lipstick, and we thought that he was having an affair at one point. We didn't know what to do, we didn't want our family to be broken up so we wouldn't tell anybody."
Kim too kept her stepfather's secret after she caught him dressed like a woman in their garage.
Article continues below advertisement
"I ran to Kourtney's and I was hysterical crying," she explained. "I kept this secret for maybe 12 years."
But the most jaw dropping of the stories was when Khloe revealed that Bruce would dress like a woman in public!
"I found out when he was doing his appearances. He would get dressed and walk around the lobby of his hotel," she said. "No one knew it was him. I remember I would just be so scared. What if someone catches him?"
Part two of Keeping Up With the Kardashians: About Bruce airs Monday at 9/8c on E!