Bromance Over! Brad Pitt & George Clooney's Secret Feud Exposed -- Angie & Amal Catfighting Too!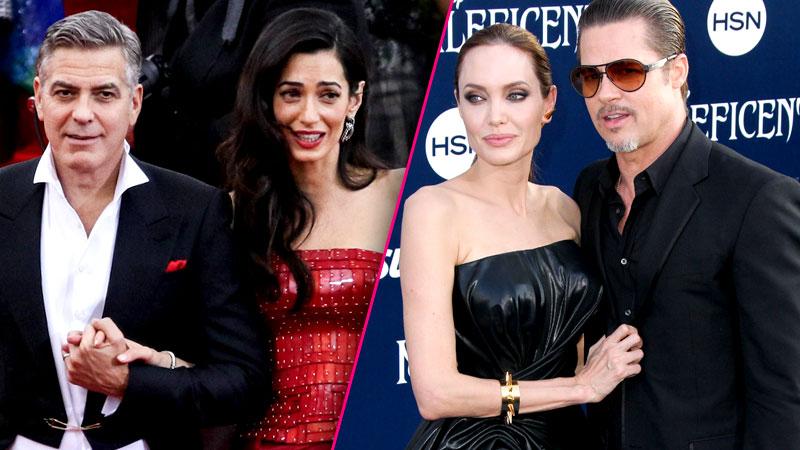 Brad Pitt and George Clooney have gone from BFFs to bitter rivals! The two Oscar winners are secretly "at each other's throats" over a big-bucks business deal that went belly-up, sources told The National ENQUIRER.
According to the report, the bad blood boiled over when Pitt's company, Plan B, beat out Clooney's production arm for a highly coveted film project. To Clooney's disappointment, Pitt won the film rights to a book about an American lawyer's crusade against Big Oil on behalf of the poor farmers in the Amazon rainforest.
Article continues below advertisement
The book, Law of the Jungle, chronicles the true-life story behind the 22-years-and-counting legal battle over pollution in the Ecuadorian jungle. The lawyer eventually won an $18 billion judgment against corporate colossus Chevron.
"George desperately wanted the project. Brad knew it, but he scooped it up anyway. He told George, 'It's just business, man,'" a source said. "But George can't forgive him. He thinks Brad's a big phony now – praising him to the press and then stabbing him in the back!"
Just last year, Pitt, 51, gushed over the 54-year-old silver fox, declaring, "Well, you know, George is one of our best representatives. He's a joy to be around."
But, said the insider, "Brad no longer feels that way about George. He can't stand the sight of him anymore. He told him to his face, 'I hate you! Drop dead!'"
Even the guys' beautiful brides – Angelina Jolie and Amal Clooney – reportedly hate each other now. Said the source: "Angie thinks Amal is 'putting on airs,' and Amal thinks Angie is a pretender."