Exclusive
Skin-Deep: Tyga's 'Kylie' Tattoo Is 'Ultimate' Diss To 'Lying' Ex Blac Chyna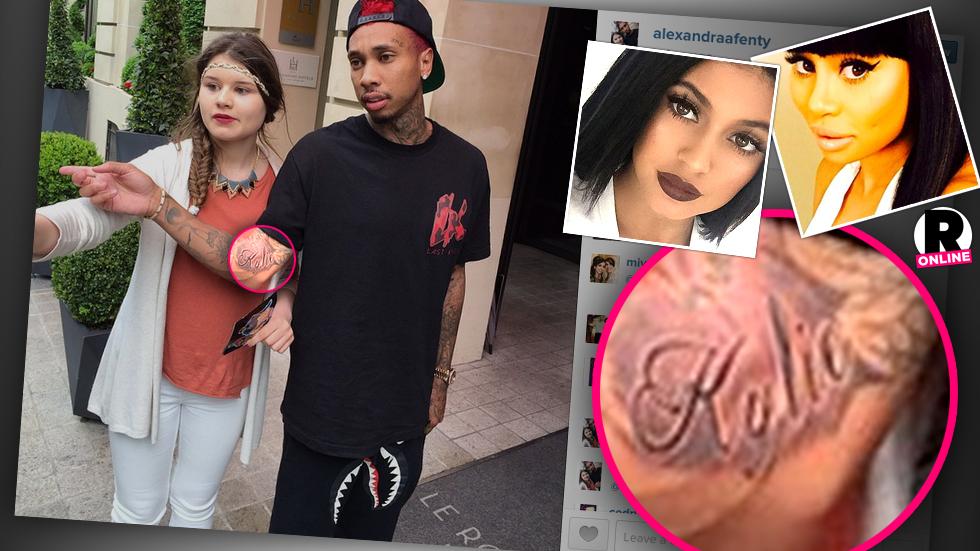 In interviews, Tyga has gone back and forth on whether he is dating Kylie Jenner. But after denying and then confirming their love, he made his strongest statement yet when he got her name tattooed on his arm last week. Why the sudden decision? A source close to the Keeping up with the Kardashians clan tells RadarOnline.com exclusively, "Tyga getting Kylie's name on him was the ultimate diss and 'screw you' to his lying ex, Blac Chyna!'
Article continues below advertisement
Coincidentally, the 25-year-old bad boy rapper debuted his token of love to Jenner on the day after Blac Chyna took to her Instagram to share a supposed text conversation that took place between herself and Tyga. The shocking texts made it seemed like the bad-boy rapper had messaged his ex "I want to be with you."
"Tyga saw how distraught Kylie was after Blac posted the fake conversation between the two and wanted to prove to her that she's only one," says the source.
The ongoing feud between the two reality divas has been escalating in recent weeks, but finally hit a boiling point when Blac Chyna mocked Jenner's look by posting an image of herself wearing big, fat wax lips.
However, the source says that the tattoo, which Tyga proudly showed off on Instagram, "is the nail in the coffin for Kylie and Blac's feud."
"There is nothing that Blac Chyna can say or do now that can one-up the fact that Tyga has Kylie's name now on his body for life," the insider tells Radar.
Article continues below advertisement
"Unfortunately, Tyga must always have open communication with Blac because she is the mother of his child," says the source, referring to the one-year-old son that the two share, King Cairo Stevenson.
"This feud that is going on between Kylie and Blac is not only forcing Tyga out of his ex's life, but out of his son's life as well."
"Although the Kardashians loathe Blac Chyna, they do not want to see King grow up without having a dad."
Do you think that Blac Chyna, Tyga and Kylie Jenner should sit down and talk this over like adults? Let us know your thoughts in the comments below.