Tori Spelling 'Heartbroken' After Dean McDermott Hooks Up With His Ex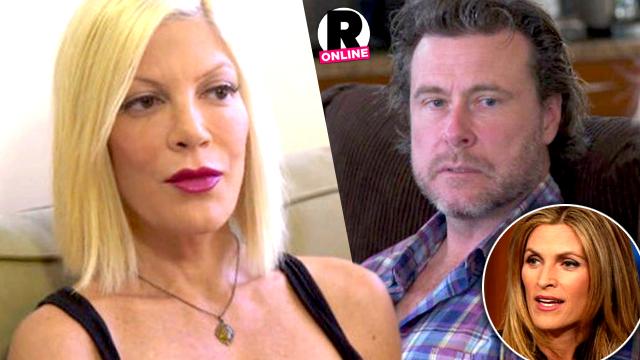 Tori Spelling was in for a major shock when she discovered her husband Dean McDermott recently hooked up with his ex-wife, Mary Jo Eustace!
"She's heartbroken," an insider tells Star. "She's trying to put on a brave face, but she's at a complete loss as to how to deal with it… She doesn't know what to do."
Spelling, 41, found out about 48-year-old McDermott's betrayal after Eustace spilled the beans on Brandi Glanville's Unfiltered podcast.
Article continues below advertisement
Earlier this year, "Dean, my ex-husband, apologized to me," Eustace, 52, revealed on the program. "There had been no apology for years and years and years. He came to my house, off camera, and I went into the kitchen to get him a coffee and turned around and he was right behind me."
So did he make a move?
"A little bit. Wouldn't you?" Eustace gleefully told Glanville.
"It's become clear to Tori that Dean was after her for her money," the insider says in the wake of the revelation. "She doesn't recognize the man she married. She's disgusted that he could go to his ex-wife at a time when they are supposed to be working on fixing their relationship. She wants to leave him but is terrified of being a single mom."
Regardless, insists the insider, "They'd be better off apart."
Do you think Tori and Dean should fight for their marriage, or is the relationship past its due date? Sound off in the comments below.
Watch: Dean and Tori argue about Dean's parenting style