Exclusive
Golden Handcuffs! Teresa Giudice Uses Family To Score $75K Payday From Prison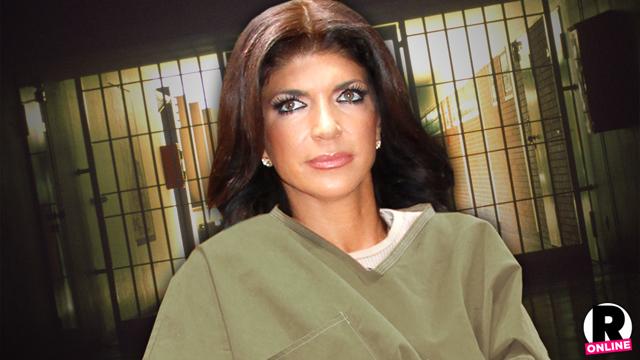 The very first photo of Teresa Giudice behind bars is out — and it's earned the convicted felon and her family a whopping $75,000!
The shot shows The Real Housewife of New Jersey star surrounded by her husband, Joe, and their daughters, Gia, 13, Milania, 11, Gabriella, 9, and Audriana, 5. Giudice is dressed in a green jumpsuit and sports a slight smile on her face. Her dark shoulder-length hair is a mass of curls.
Article continues below advertisement
The picture's background appears to be an idyllic winter scene, which even includes snow-covered trees.
While the photo, which appears on the cover of a weekly tabloid, seems like a cheap family portrait taken at the local mall, RadarOnline.com can exclusively reveal that it was worth a whopping $75,000 to the publication.
"It was staged in the prison using a service where inmates can take photos with family each Sunday," a source tells RadarOnline.com of the snapshot taken at the Federal Correctional Institute in Danbury, Connecticut, where 42-year-old Giudice will be locked away until the beginning of next year.
"The family desperately needs the money and Teresa had no problem with using her family to make a few extra bucks while she's behind bars — she's shameless!"
As RadarOnline.com reported, the Giudice family's days of living high on the hog are over now that mama and papa Giudice are convicted felons.
"The family is broke and has absolutely no money coming in… and there is nothing in a savings or checking account," revealed a family insider. "Joe still hasn't gotten a job, and isn't even looking."