Exclusive
Gone Too Far! Shocking Blac Chyna Post About Kylie Forces Khloe To Step In & End Feud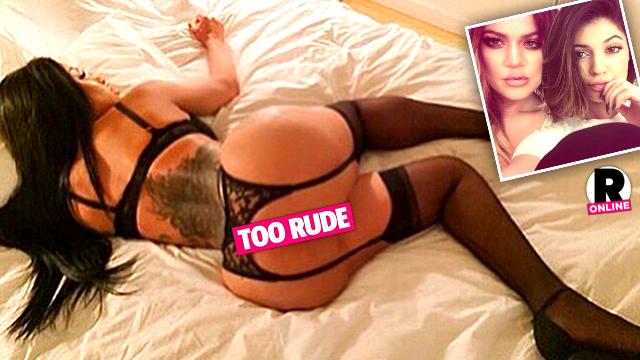 The between Kylie Jenner and nemesis Blac Chyna just went from heating up to boiling over! RadarOnline.com has exclusively learned from a Keeping up with the Kardashians family insider that a recent post from Blac Chyna force Khloe Kardashian to step in to defend her little sis.
After Blac Chyna posted a series of disses at the 17-year-old reality star, she decided to take it one step further by uploading a raunchy photo of herself in a bed alone, along with a caption that said "permanently" – a clear shot at Jenner's frequent use of the term "urgently" in status updates. While Jenner's posts imply that she is "currently" dating Tyga, Blac Chyna inferred that since she is the mother of his one-year-old son, King Cairo Stevenson, she will always be in her life.
Article continues below advertisement
It was just the latest round in their ongoing social media battle, but for Jenner's sister Kardashian, it was a step too far.
https://instagram.com/p/1w-s6ERvjW/?taken-by=blacchyna
"Khloe called Blac Chyna yesterday and let her have it after she saw that," the insider says.
As RadarOnline.com previously reported, an online storm erupted on April 21 when teens across the country were injured by the '"Kylie Jenner lip challenge," which asked fans of Jenner to use whatever means necessary to get their pouts plump — including sucking their lips inside bottles.
Article continues below advertisement
"It was completely insensitive and heartless of her and Kylie wants to fire back so badly."
According to the source, Jenner, who is still underage and dating the 25-year-old bad boy rapper, "Cannot wait until she is 18 so her and Tyga can make out on her Instagram and Blac can just sit home and cry about it."
"But because , she is not going to let this b*mbo go and talk smack about her baby sister," the source says.
"The sad thing is that Blac is going to do what she is going to do and there is nothing or no one that can really stop her."
https://instagram.com/p/1022gSRvk5/?taken-by=blacchyna
In fact, Blac Chyna just posted another photo on her Instagram, showing herself with overly large lips. In the photo, instead of writing a caption, she included a emoticon of a knife!
In the end, the Kardashians are afraid to fire back overtly.
"She knows too much on that family through her friendship with Amber Rose and they all feel she will use it against them if any of the Kardashian girls seriously try to do anything stupid to humiliate her," the insider adds.
Do you think that Blac Chyna and Kylie Jenner should come to a truce, or do you love this ongoing battle? Let us know in the comments below.
Watch: Tyga Says He's Not Sleeping With Kylie Jenner