Exclusive
Giveaway Alert! Win An Official 2015 MTV Movie Awards Gift Bag On Radar, Check Out The Awesome Swag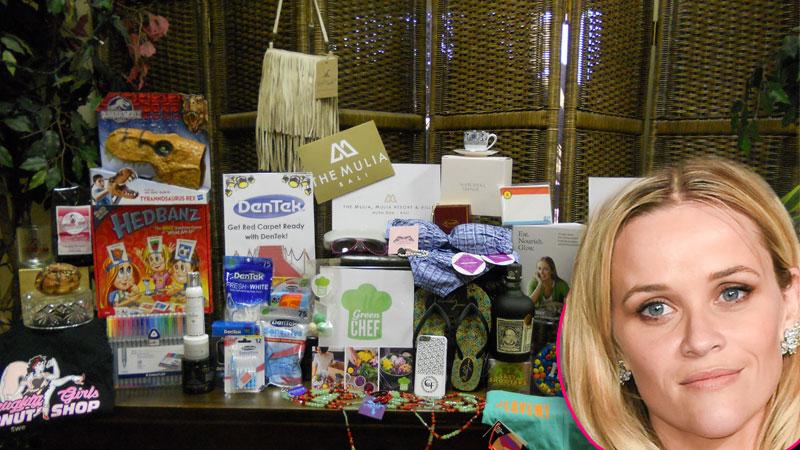 You too can be a star! Win the same bag Reese Witherspoon, Mark Wahlberg, Miles Teller and host Amy Schumer received at the 2015 MTV Movie Awards. Be sure to tune in Sunday, April 12 at 8/7c on MTV! To enter, follow @Radar_Online on Twitter and tweet using #RadarGiveaway. Contest ends April 16th at 11:59pm EST.
* – Considered the hottest and most sought after swimwear, CMBeachwear is undoubtedly the most sophisticated found on the sultry beaches of Brazil.
Article continues below advertisement
* – Crystals On Fire's shop online offers exciting COF Designs by Stephanie. COF is a luxury brand loved by savvy shoppers and local celebrities, consisting of cell phone cases, mobile accessories, jewelry and so much more- specializing in customizations, with or without fine Austrian crystals.
* – Get a beautiful and brilliant Red-Carpet-Ready Smile with the help of DenTek's new Sensitive Floss Picks and Interdental Cleaners, Fresh & White Silky Whitening Floss Picks, Floss Picks + Case, and Maximum Protection Dental Guard. Ensure teeth are clean and white by using the Floss Picks and Interdental Cleaners, protect teeth from nighttime grinding with the Dental Guard, and make any last-minute touch ups with the Floss Picks + Case that you can easily store in your clutch, pocket, etc.!
* – DonorsChoose.org is a nonprofit website that makes it easy for anyone to help students in need across the country. Donors can redeem DonorsChoose.org gift cards to support classroom project requests by public school teachers.
* – Era Organics' Complete Moisturizer, Cleanse + Restore and Dead Sea Mud Therapy combine to nourish your skin with all the different vitamins, minerals and amino acids it needs for optimum health and healing. Enjoy the best of nature, perfected through science.
Article continues below advertisement
* – Ernest Alexander is a men's lifestyle brand focused on crafting luxury bags, accessories & apparel - the Bedford Waxed Canvas Overnight Bag is a signature piece from our travel collection.
* – Green Chef delivers all you need for wholesome, home-cooked meals: fresh, organic, pre-measured ingredients and delicious, easy-to-master recipes.
* - Women who live by their own rules.
* – Replace fad diets for good with 10 easy steps to your rejuvenated future; from nutritional therapist and healthy eating expert Amelia Freer comes the #1 international bestseller that Grammy winner Sam Smith said "completely changed my life."
* – JURASSIC WORLD CHOMPING DINO HEAD Hand Puppet- The long-awaited next installment in the groundbreaking Jurassic Park series, Universal Pictures' JURASSIC WORLD, releases in theaters worldwide on June 12, 2015. As global master toy partner, Hasbro has developed a collection of figures, plush, playsets, and role play items that will captivate fans of all ages, including the JURASSIC WORLD CHOMPING DINO HEAD hand puppet, which lets fans pretend to become a TYRANNOSAURUS REX or VELOCIRAPTOR predator!
Article continues below advertisement
* – Say goodbye to dull boring paper, and hello to friends and family with this bright & vibrant stationary!
* - Hand mixed caramel corn made directly on the Ocean City, NJ Boardwalk.
* – Winner of multiple European design awards and a terrific gift item, the X1 is Knirps signature most popular model. The unique sunglass-style case matches the color or print of the umbrella's canopy.
* Lauren Merkin Handbags – Lauren Merkin Men's wallets are a classic billfold brought to life by soft perforated lambskin and contrast interior colors for that added touch of fashion.
* – Elegant scrolling vines and beautiful feathers in sapphire blue adorn the Marchesa Couture Sapphire Plume Demi Cup & Saucer. Lavish bands of precious platinum are the perfect accent to this dinnerware design gem.
Article continues below advertisement
* – Designed in-house north of Malibu, you can buy Malibu Jane in just a few beautiful, select boutiques. Our customers appreciate simplicity, fashion, luxury and a relaxed lifestyle.
* – Calvin Klein eyewear by Marchon.
* – Leather Handbags & Accessories Handmade in Texas.
* - Nusa Dua, Bali – The Mulia Resort is a stunning beachfront resort and villa along Nusa Dua's bay in Bali. Prize is a Mulia beach bag.
* - MY M&M'S provided MTV Movie Awards attendees with personalized M&M'S featuring the award show logo, hashtag and custom message in acrylic containers featuring the well-known "m" embossed on the lid. MY M&M'S helps make celebrations sweeter with personalized blends of chocolate candies featuring custom printed messages, logos, faces and clipart images on 25 colors.
* - Naughty Girls Donut Shop, a retro-inspired, gourmet donut shop founded by seventeen-year-old entrepreneur, Tiana Ramos, specializes in exotic donuts with one-of-a-kind flavors and toppings. Naughty Girls Donut Shop is changing the world one donut at a time! Prize includes coffee, mug and t-shirt.
Article continues below advertisement
* – Ronaldo's "HERO" bracelet, a handcrafted two-toned design of interwoven patterns created with sterling silver and 14k gold artist wire – Made in the USA. The "HERO" bracelet honors any Hero in our lives and proceeds are donated by Ronaldo to Wounded Warrior programs across the country.
* – Reserva Exclusiva is a prestigious sipping rum, carefully crafted from our best reserves and matured for up to twelve years in small oak casks. Thanks to its perfect balance and distinctive notes of maple syrup, liquorice and orange peel, this award-winning rum has become a reference for rum lovers and connoisseurs around the world. Prize does not include alcohol- only glassware.
* - Himalayan Salt Tequila Shot Glasses – The look of rose quartz and made of 100% Himalayan Salt, these unique glasses add the perfect touch of salt to your tequila shooter. New, patent-pending insert keeps tequila from getting too salty.
* – Hedbanz is the Quick Question Game of "What Am I?" where everyone knows but you!! Figure out what clue is on your head by asking "yes" or "no" questions to be the first player to guess what you are and WIN!
Article continues below advertisement
* STAEDTLER-Mars Limited - STAEDTLER triplus fineliner porous point pens are available in 20 brilliant colors. The ergonomic triangular shape allows for relaxed and easy writing.
* – The #LoveMyBounce campaign was created by music artist D'Chrome Foster and STK MKT Entertainment, a socially conscious multimedia company, to empower women everywhere by encouraging them to love their bodies and love their bounce. When you wear the #LoveMyBounce shorts, you are helping us to end violence against women - 20% of proceeds are donated by #LoveMyBounce to Arethusa Speaks, a nonprofit theater organization that uses storytelling to give a voice to women who have been affected by relational violence.
* TARINA TARANTINO – From the TARINA TARANTINO Limited Edition VELVET SKULL collection, the 7-inch "Scarlette" stretch bracelet is handmade in the USA and features a skull bead created using exclusive "Velvet Kote" Lucite coating technology, glass pearls and Swarovski crystal drops.
Items in photo subject to change based on availability- some colors and styles may vary. Total value of prize estimated $1642. Courtesy of .