Exclusive
Rehab Excuse? Kim Richards Planning To Leave Country For Daughter Brooke's Wedding Party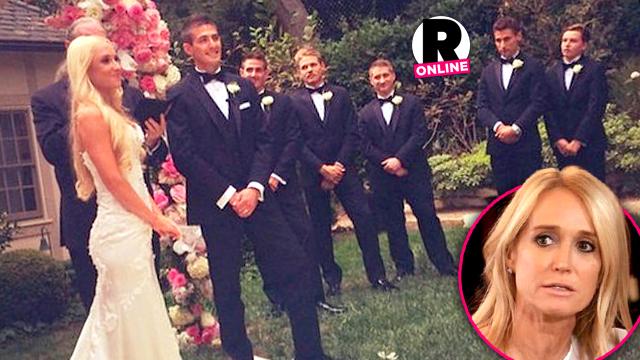 In the wake of Kim Richards' boozy arrest at the Beverly Hills Hotel, insiders tell RadarOnline.com that there is mounting pressure for her to get help. But sources tell RadarOnline.com that her daughter, Brooke Brinson, has been planning to host a lavish wedding celebration out of the country in the next few weeks, and Kim could use it as an excuse to delay getting treatment.
Even though Brinson, Kim's daughter with ex Monty Brinson, already got married last summer, at aunt Kathy Hilton's house, she has been planning a lavish second ceremony with husband, Thayer Wiederhorn, out of the country in the next several weeks.
Article continues below advertisement
"Brooke has been planning an over-the-top lavish wedding out of the country," an insider told RadarOnline.com. "The first ceremony last August was rushed because of Monty's health. He really wanted to walk Brooke down the aisle. The ceremony was lovely, and it was so generous of Rick and Kathy Hilton to host it, but it wasn't what Brooke had always dreamed of."
"The second wedding is exactly what Brooke wanted. However, with mom Kim's arrest, there are serious concerns about it proceeding for obvious reasons," the source said.
Kim was arrested at the Beverly Hills Hotel early Thursday morning after a drunken rampage. Cops eventually were called after Kim refused to leave, and the RHOBH star was arrested on suspicion of trespassing, being drunk in public, battery on a police officer, and trespassing.
Adding to the drama, she has been feuding with her sister, Kyle. The subject of the wedding plans came up multiple times during the RHOBH reunion, with Kim uncertain if she would invite her sibling.
Lisa Vanderpump encouraged the sisters to come to a temporary truce for the sake of their children, reminding them, "You will regret if for the rest of the life if you don't."
Meanwhile, "Friends of Kim's think having a second wedding is just ridiculous," said the source. "Who is paying for the wedding? Kim was dealing with a lot before the arrest, including the hospitalization of one of her children for mental health issues, and Monty's illness. She needs to go back to rehab."