Exclusive
Does Kim Know? Kardashian Cousin Kourtni's Secret Run-Ins With The Cops Revealed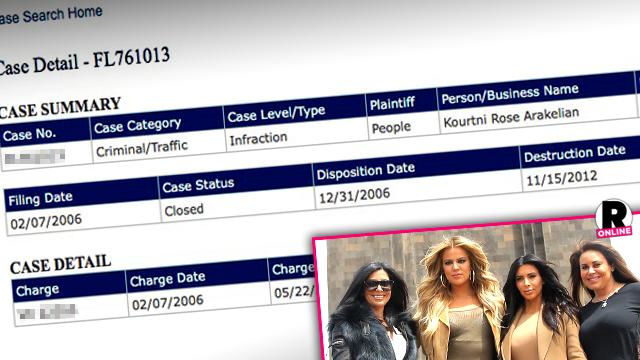 They're multiplying! Kim and Khloe Kardashian introduced fans to two more K-named brunette Kardashian beauties when cousins Kara and Kourtni Kardashian joined them on a family trip to Armenia last week. But RadarOnline.com has learned that even though they're new to the spotlight, at least one of them is not new to drama: Kourtni has a history of past run-ins with the police.
Born Kourtni Rose Kardashian, now known as Kourtni Arakelian, Kim and Khloe's cousin was popped for "unsafe speed for prevailing conditions" on the road in Orange County in February 2006. She completed traffic school by May 2006 and the case was disposed.
Article continues below advertisement
But apparently she didn't learn her lesson! She was charged again with unsafe speed on October 12, 2010, and completed traffic school yet again to get the case disposed by February 2011.
Less than a year later, she was charged with exactly the same infraction yet again on February 9, 2012. She pled not guilty on July 6, and the case was dismissed.
Of course, the TV Kardashians have had their own run-ins on the road: Khloe was arrested for DUI in 2007, and served fewer than three hours of a 30-day jail sentence in July 2008.
Do you want to see more of the Kardashian cousins? Let us know in the comments!