Jill Duggar Announces Contractions Were False Alarm — Still No Baby Dilly!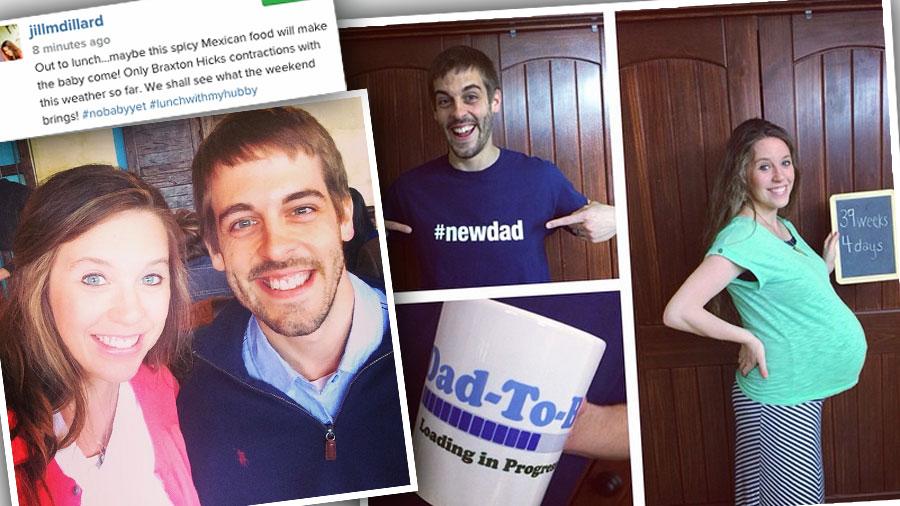 Sorry Duggar fans! The long wait for Jill Duggar's little baby boy is not over.
On Friday, her husband Derick Tweeted that his wife was in labor. But it turns out that Jill — who is a week past her due date — was only experiencing a phenomenon called Braxton Hicks contractions, which are early contractions, but not the real thing. (These contractions are often called "practice contractions").
Frustrated Jill confirmed the news on Instagram.
Article continues below advertisement
"Out to lunch...maybe this spicy Mexican food will make the baby come!" Jill captioned a picture of the couple. "Only Braxton Hicks contractions with this weather so far."
https://instagram.com/p/1BWGY9Ls0u/
But she still has her hopes up that her baby will arrive in the next 48 hours.
"We shall see what the weekend brings! #nobabyyet #lunchwithmyhubby" Jill added.
And Derick tweeted, "Baby Dilly will come in God's timing. #babydilly #41weeksandcounting #notinactivelaboryet"
Jill hasn't been the only one in her family that has been excitedly taking to social media in the anticipation of the arrival of her bundle of joy.
Derick quickly posted, "Baby dilly will come in God's timing. ? #babydilly #41weeksandcounting #notinactivelaboryet."
And Jill's brother Josh also shared in on the excitement online.
"What a great day...to be born! If only #BabyDilly were following me on Twitter ;) #19Kids #40weeksandcounting @jillmdillard @derick4Him" Josh Duggar tweeted at his sister and brother-in-law.
This wasn't the first time that Josh has spoken about his sister's delivery.
On April 1, he played an April Fool's joke on 19 Kids and Counting fans when he posted that Jill had given birth to twins.
"Congrats to @jillmdillard @derick4Him on the surprise birth -- twins!!! #19Kids #AprilFools," he said.
Stay with RadarOnline.com for the latest!