Exclusive
More Legal Trouble! 'Teen Mom 2' Star Jenelle Evans Accused Of Harassment By Former Friend: Read The Shocking Police Report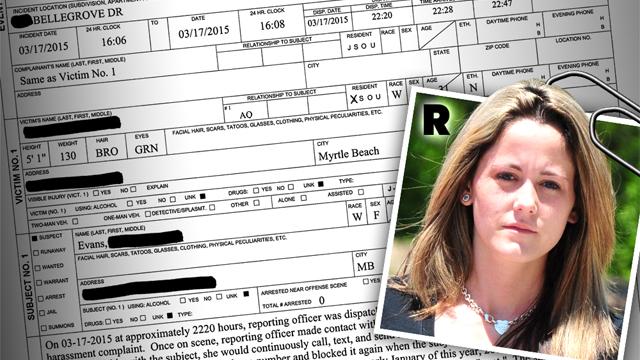 The legal issues keep coming for Jenelle Evans! Nearly a month after her fiancé Nathan Griffith was arrested following a domestic dispute at their home, the Teen Mom 2 star is now the one under investigation, after a former friend accused her of second-degree harassment!
The unidentified victim called the Horry County, North Carolina, Police Department on March 17 and told cops "when she broke off her friendship with the subject Evans, she would continuously call, text, and send messages to the victim," according to the police report obtained by Radar.
Article continues below advertisement
READ THE SHOCKING POLICE REPORT HERE
The report states that the victim tried to "cut all ties" with Evans beginning in January, 2015, but on March 17, 2015, the MTV star "sent a long message on Facebook calling her a "b*tch" and a "c**t."
However, the report states that Evans "did not directly threaten the victim in any way but did indirectly threaten the victim's way of income through her business."
The victim told the officer "all she wants is for the subject Evans to stop contacting her because she no longer wishes to have any type of relationship with her."
A source close to Evans told RadarOnline.com that she was not arrested after the report was filed. "Jenelle filed a report against this woman too and the cops told her about this report," the source claimed. "They didn't do anything about it and her lawyer is handling everything else."