Cozy's Cuts For Kids & SoCozy: NYC Entrepreneur Cozy Freidman Expands Hair Line For Children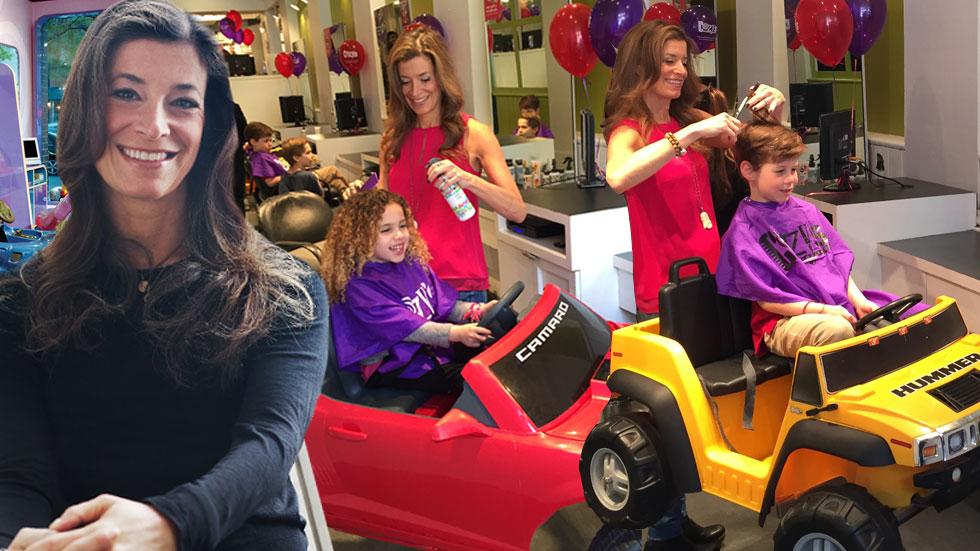 Twenty years ago, Cozy Freidman had a revelation when a friend's son started crying on the way to a hair cut: Why aren't there any hair salons for kids?
So she quit her job, went to barber school, got licensed to cut hair -- and after two years of trying to convince people she wasn't nuts -- opened her first of two Cozy's Cuts For Kids in 1994.
Part toy store, part-playground, the NYC salons specialized in distracting scared kids using time tested techniques and flat screen TV's. That was a formula for a phenomenon, as the salons attracted throngs of relieved parents including celebrities like Rosie O'Donnell, Meg Ryan, Stephanie Seymour and Katie Couric.
Article continues below advertisement
"My staff is trained to work with all kinds of children and a lot of occupational therapists refer their special needs children to us," says Cozy. "Whatever the kids do, no judgment here. I've seen kids throw up, pee in their pants, whatever.
"They're kids, and I'm a mom myself, so I get the whole thing!"
But over the years Cozy discovered a problem: Hair chemistry changes, and there was nothing to target follicles for the ages 2 to 12.
"There were products out there for babies and adults, but nothing to address the specific needs and problems that children's hair has like knots and tangles, cowlick, bed head, frizz, static cling, split ends, all that kind of stuff," says Cozy. "So I created my line called SoCozy."
After using the products exclusively in her salons and tweaking the formula following feedback from her customers, the products caught on at dozens of other beauty parlors. They became such a hot item Cozy recently decided to take her products to the next level.
Article continues below advertisement
"We tweaked the formula and turned SoCozy to a brand that is unlike anything else that is out there," she says. "All of the products are great. They truly solve problems. We have all these amazing ingredients like Keratin and soy proteins, but it's what's not in the products that's most important. There's nothing toxic. No parafins, sulfates, synthetic color, wheat, gluten or nuts.
"So it's very safe and very clean."
Now SoCozy products are available in 1,800 Target stores nationwide and at Target.com, and Cozy is happy she's finally filling a much-needed void.
"Our products are good for all hair textures and all types," she said. "Girls or boys, curly or straight hair, it's good for everybody. And we have a product to address everyone's needs whether it's fly aways or lice or knots."
So what are some of the sough after styles that parents want for their kids?
"For girls, it's a lot of classic looks. The bob is always really in style and braids are huge," Cozy said. "For boys it's the Beckham look, sort of longer spikey messy and the faux hawk. And there's always the classic gentleman's side part."
For more on this story, check out SoCozy.com.