Slap In The Face! Bruce Jenner Poses Happily With Supportive Ex-Wives Linda & Chrystie, Snubs Absent Ex Kris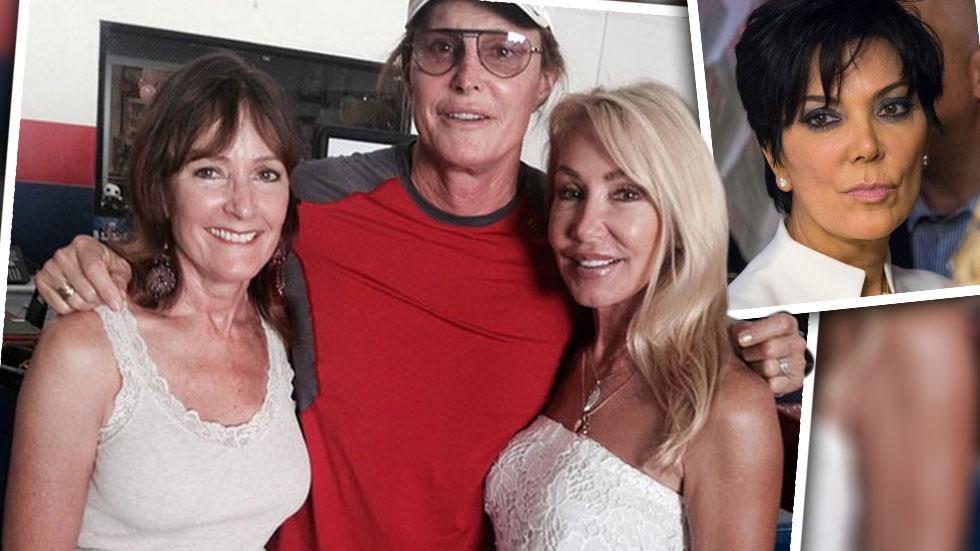 Snubbed! Bruce Jenner cozies up to supportive ex-wives Linda Thompson and Chrystie Crownover while most recent ex Kris is nowhere to be seen.
Thompson posted a photo of the trio on Wednesday, smiling wide for the camera. After receiving overwhelming support from his former partners during Diane Sawyer's ABC exclusive, there's no doubt Bruce is sighing with relief.
Ex Kris had no comment on the matter for Diane Sawyer, though the reality TV mom claimed she never received the network's request for a statement. According to the Kardashian "momager," she was even watching the big exclusive sitting right next to her so-called hero, Bruce.
Article continues below advertisement
Thompson -- married to Bruce from 1981-1986 -- included a link to an extended excerpt from her upcoming memoir How Living With and Loving Bruce Jenner Changed My Life Forever, released by Huffington Post:
"When Brody was about 18 months old and Brandon was about 3 and a half years old, Bruce came to me one day with a very somber look on his face and said, 'There's something about me that I really need to tell you, something you need to know.' I truly thought he might possibly tell me he had had an affair while on the road. But that's not what he wanted to confess to me. Bruce told me that he identified as a woman."
https://instagram.com/p/2EfmkemNl8/?taken-by=ltlindathompson
She added: "I can now breathe a little easier, knowing he now has found the strength and the courage to fulfill his dream. He can finally realize his need to be who he authentically is, who he was born to be. That takes tremendous courage. For that I commend him."
The Jenner side of Bruce's big family have been overwhelming supportive – and vocal – throughout the process, something Bruce admits he's extremely grateful for.
While the Kardashians have elected Kim as their point-person for public support, most of the reality stars have remained fairly quiet on the subject.
Do you think Bruce Jenner is giving Kris the cold shoulder? Let us know in the comments below and see what the rest of the Kardashians are up to: