Pucker Up! Blac Chyna Brings The #KylieJennerLipChallenge To The Next Level, Throws Kylie Some Major Shade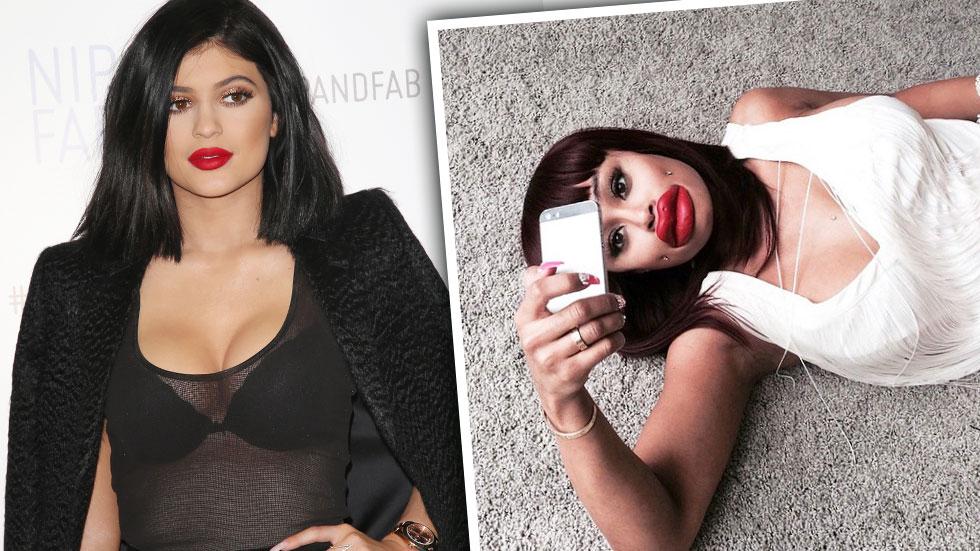 As the #KylieJennerLipChallenge takes over the Internet (maybe Kylie will actually break it?), Blac Chyna – ex to Jenner's now-boyfriend Tyga – has joined in on the fun, taking a major jab at her 17-year-old rival in an outrageous lip-pic on Instagram.
To be fair, Jenner's lip fascination has certainly backfired with fans. In recent days, teens have tweeted photos of themselves attempting the #KylieJennerLipChallenge, making their lips swell by sucking them inside bottles. Some have been bruised and otherwise injured.
Article continues below advertisement
"I'm not here to try & encourage people/young girls to look like me or to think this is the way they should look. I want to encourage people/young girls like me to be YOURSELF & not be afraid to experiment w your look," Jenner Tweeted after seeing the backlash that her lip service has caused.
Unfortunately, Blac Chyna saw an opportunity for poking fun that she couldn't refuse, posting this satirical photo on Instagram soon after the whole debacle.
https://instagram.com/p/1wW7mmRvrx/?taken-by=blacchyna
Instead of bruising her own pout, Chyna opted for a set of Wack-O-Wax lips, a candy product made of flavored wax that's molded to resemble a pair of oversized red lips.
The battle wares on between these two hotties – apparently Tyga is quite the man to fight over – who continue to spar through subliminal messages over social media.
https://instagram.com/p/1wctGdnGjC/?taken-by=kyliejenner