Don't Be Fake! Bethenny Frankel Blasts Heather Thomson For Creating 'Drama' On 'RHONY'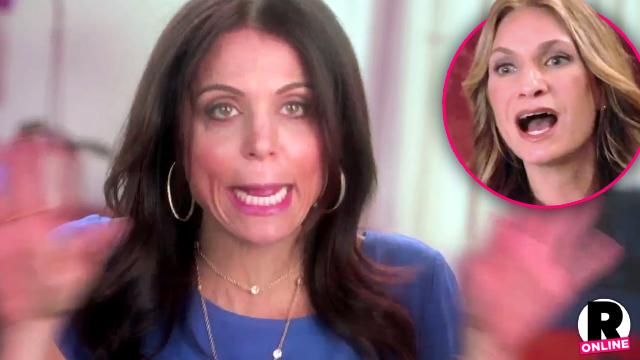 Bethenny Frankel blasted her Real Housewives of New York City co-stars for their attempts to manufacture "drama" and said that she is "taking no prisoners" this season in her newest blog.
Continuing to confirm that the B is really back, the 44-year-old lashed out at Heather Thomson for being mad about not getting invited to her birthday party.
"Ouch. I may not float like a butterfly, but I DO sting like a bee," Frankel wrote on her Bravo blog.
Article continues below advertisement
"Watching the dinner at Cherry made me giggle," she wrote. "It did look harsh when watching it back. Let me create some context: I find that on the Housewives shows, being invited or not invited to something tends to be blown out of proportion, dragged out, and takes on a life of itself. This concept is exhausting to me, and I knew exactly where Heather was going. It felt manufactured to stir up drama."
The Skinnygirl mogul explained why she was so selective with her invite list.
"The fact remains that I was new to the show, had just met everyone and had spent some time with Carole and Heather, so I decided to invite them to my birthday. I didn't know Kristen at all and wasn't going to invite her for the sake of a television show. Dorinda even says at dinner that she didn't know me at all so for her to be upset is preposterous to me. Even Kristen's housekeeper thought it was no big deal. The trailers did warn that 'The B is back,' so there you have it."
Article continues below advertisement
It doesn't seem like Frankel has earned any good will from Thomson now either.
"I have to hand it to Bethenny--she sure knows how to shut down a conversation the minute there's no personal interest," Thomson wrote on her Bravo blog.
"I barely finished my sentence on the topic before it got hostile. I don't think any of us knew what to make of her reaction. Between the sleeping dramatization and telling me I was Carole's plus one, I quickly realized nothing positive was going to come of this," she insisted.
But Frankel finds the humor in the situation and even copped to her own rotten behavior.
"I'm rather grateful for Dorinda ripping John a new a**hole at dinner, because it basically made me feel better about being a 24-karat tw*t at Cherry," she wrote, but warned that things are going to get even worse.
"Unfortunately, I don't think this is the end of my wrath. I walked into a new group of women, I had a lot of personal stress, and I was taking no prisoners."
What do you think about Bethenny's burns? Sound off in comments below.