College Student Who Bit Hamster's Head Off In Shocking Viral Video Is Stepson Of Ex-Candidate For Mississippi Governor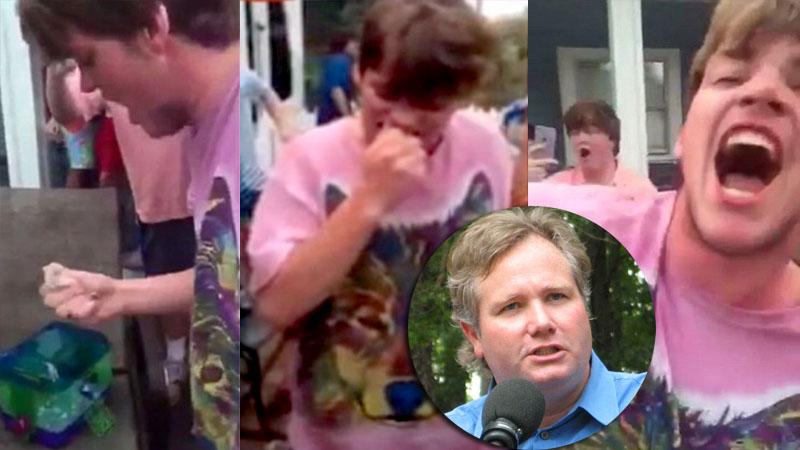 Brady Eaves, the spring breaker in a viral video in which he's biting off a live hamster's head, has been identified as the stepson of a prominent Mississippi politician.
Eaves, 18, shocked many in a YouTube video titled "psycho drunk spring breaker bites head off of hamster" that went viral, as he cackled as he yanked the hamster from its cage, bit its head off, and tossed it.
Insiders told DailyMail.com that the hamster was force fed alcohol and its cage was filled with marijuana smoke prior to its death. (One source told the outlet that Eaves is actually an "animal lover" who has past owned pets.)
Article continues below advertisement
The outlet reports that Eaves is a scholar-athlete who attends the University of Mississippi, and whose father is John Arthur Eaves Jr. a bigwig attorney who ran for governor in the state in 2007.
The lawyer -- who serves as CEO of his Jackson, Miss.-based Eaves Law Firm -- won the Democratic primary, but lost the general election after a series of controversial comments regarding the area's Hispanic population and its effect on the state unemployment rate. In his legal practice, Eaves has represented passengers aboard the Costa Concordia 2012 boat crash.
Family spokesman Mike Hardin said the lawyer was not in his office Tuesday, as he was "dealing with a family matter," and that he wouldn't further comment on the issue.
Eaves, a Madison, Miss. native, was a member of the Phi Delta Theta fraternity before he was expelled from the group early Tuesday in connection with the incident.
Mississippi Alpha Phi Delta Theta president William Kneip said that the group was "disappointed and disgusted in Brady's actions," leading to his ouster.
"These actions are inconsistent with what we believe as men of Phi Delta Theta and are inconsistent with the creed of the University of Mississippi," he said, adding that the "incident ... is in no way associated with any chapter activity of Phi Delta Theta."
In addition, University of Mississippi officials were "actively investigating" the incident, Vice Chancellor for Student Affairs Dr. Brandi Hephner LaBanc said, adding that "appropriate steps" would be taken "as soon as all the facts have been gathered."