Khloe Kardashian Tells Rob To Get Professional Help — Will He Listen?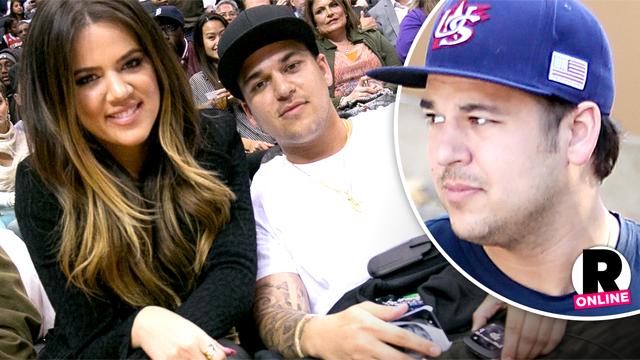 Rob Kardashian has turned his back on the world, but not his entire family: RadarOnline.com has learned that the increasingly private reality star is relying on his older sister, Khloe, to help him during this dark time.
Currently estranged from the rest of the Kardashian- Jenner clan, "Rob isn't even talking to Kris," an insider told Radar. "Rob has isolated himself from his friends and family, except for Khloe. The two siblings have a very tight bond and are best friends. Rob continues to spend time with Khloe at her mansion, but will go back to his townhouse if their siblings come over."
Article continues below advertisement
"The only person helping Rob through this darkness is Khloe," the source said. "She has suggested Rob see a mental health professional, but doesn't push him to do it as Kim and Kris have done. The rise to fame and extreme wealth has taken a toll on the family, and has hit Rob the hardest. Wanting nothing to do with Keeping Up With The Kardashians, Rob thinks the show has been a jinx, citing the divorces of Bruce, Kris, Lamar, Khloe, Kim and Kris Humphries."
Concerns for Rob arose this weekend when he took to his social media to slam his sister Kim, comparing her to the "b*tch from Gone Girl."
According to an insider, "Rob is projecting all of his anger right now onto Kim because he feels that she is the cause of his pain. But Kim is not the cause of Rob's pain. She is simply the catalyst in this situation."
"Everyone is concerned for Rob right now," the source continued. "Rob's depression, anger, and everything associated with it, stems from the fact that he is not living healthy right now. He seems to be slipping off of the deep end."
And it's been getting worse for a while.
In a 2013 episode of KUWTK, momager Kris Jenner consulted a psychiatrist about her overweight son's battle with what she called "depression," after he came close to being arrested following an outburst towards a photographer. At the time, Rob refused to see a specialist about his issues. Will he listen now?