Exclusive
Lonely, Depressed Rob Kardashian Reaches Out To Porn Stars, Video Vixens & Lingerie Models For Online Friendship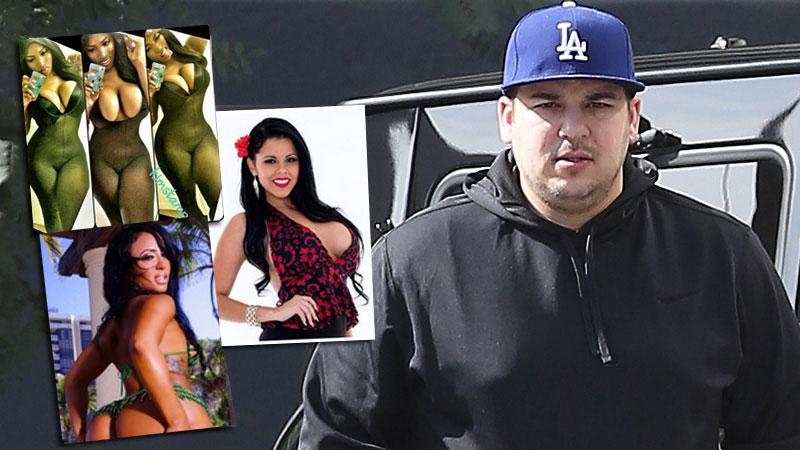 Rob Kardashian is a recluse in his big sister Khloe's home, shunning friends and family members while he struggles with depression. But RadarOnline.com can reveal that the failed sock line CEO, 28, is actually socializing with some surprising new pals: voluptuous lingerie models, video vixens and porn stars.
The weight-challenged recluse, who reportedly spends most of his day sleeping at home, also fills the long, lonely hours by reaching out to beautiful women he discovers on social media.
Article continues below advertisement
"He's a nice guy. I know a lot of other girls who speak to him as well," one popular Instagram model, who says Rob first contacted her on Twitter last year, exclusively tells RadarOnline.com.
While many of his gorgeous new gal pals are famous for flaunting their curvy figures online, the spotlight-shunning Kardashian doesn't make any romantic moves, the model says.
"He has never said anything sexual to me. He's a very respectful guy," she insists. "He just asks me what I like to do for fun, how my day was."
"It just seems like he wants someone to talk to."
Though Rob, who compared his sister Kim, 34, to the psychotic killer from Gone Girl in a shocking Instagram post last weekend, doesn't talk to his model pal about his personal life, she says it's obvious that something is very wrong.
"You can tell that he's not in a good place," she says. "Sometimes he disappears for weeks, then comes back and apologizes for not contacting me. But he won't tell me what happened."
As RadarOnline.com previously reported, Rob's concerned family members reached out after his bizarre public insult— but they weren't met with open arms.
"The Kardashian family urged Rob to take down the post, but he refuses to do so," the source said. "All of his sisters love him and want him to be well."
Check out what the other Kardashians are up to here:
Should Rob seek professional help? Sound off in the comments.