Appeal Bombshell! Raffaele Sollecito Pokes Holes In Amanda Knox's Alibi, Blasts Claims They Were 'Inseparable'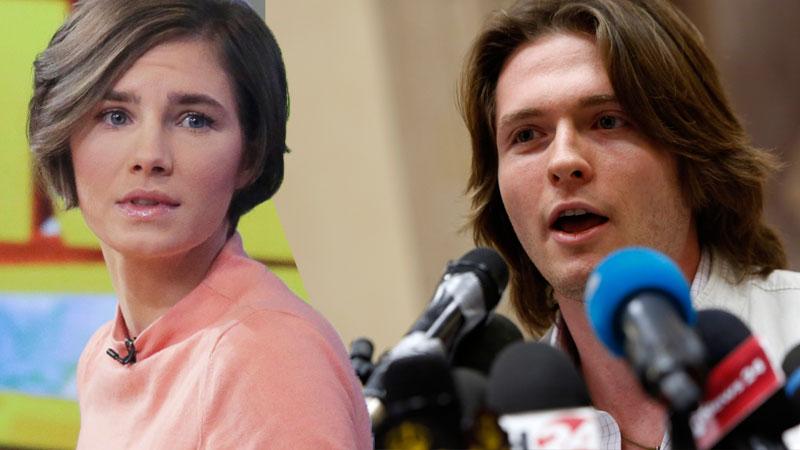 Raffaele Sollecito is having a sudden change of heart on the eve of the Italian court making the decision whether he and ex-girlfriend Amanda Knox will be found guilty for the third time of murdering British exchange student Meredith Kercher.
Lawyers for Sollecito have filed a 306-page document as part of his final appeal, contending that their client can no longer be certain Knox was with him at the time Kercher was murdered at the Perugia apartment the two women shared in 2007.
Article continues below advertisement
"The defense intends to emphasize that Sollecito has always shown himself to be extraneous to the crime, and has always said that that night he did not move from his own home," reads the document. "However, he did not rule out that Knox could have gone out."
Sollecito's statements poke holes in Knox's alibi and appear to be an attempt by his lawyers to distance him from his former girlfriend.
The document also makes it clear that Sollecito "had no reason to want the death of Meredith Kercher" and reminds the court that Rudy Guede, an Ivory Coast-born man who is serving 16 years behind bars after he was convicted in the murder, claimed Kercher was upset and believed her roommate, Knox, had stolen money and credit cards from her.
"The alleged motives concern only relations between the victim and Amanda Knox, not Sollecito," state the papers.
As RadarOnline.com reported, Knox and Sollecito were found guilty of murdering 21-year-old Kercher. Both Sollecito and Knox, now 27, served four years but were set free in 2011 when a judge found them not guilty on appeal.
However, the former couple's guilty verdicts were reinstated in the beginning of 2014. While Sollecito fights the conviction in his home country of Italy, Knox has remained in Seattle.
Article continues below advertisement
In Sollecito's last-ditch strategy, his defense lawyers also contend that their client's fledgling 10-day relationship with Knox wasn't deep enough for their client to get wrapped up in a murder over.
"Raffaele Sollecito was not linked to Amanda Knox from long, deep emotional bonds that could have caused him to give his full and unconditional adhesion to a criminal act desired by others," state the documents, which then tackle the DNA evidence in the case.
Lawyers point out that Sollecito's DNA was never found at the scene, unlike Knox's (whose DNA was mixed with Kercher's in the bathroom they shared).
Although it appears Sollecito is throwing Knox under the bus, he does ultimately come to her defense. Lawyers for the now-30-year-old former student write that it's "implausible to believe that the American could have taken part in such a heinous crime."
Article continues below advertisement
"In these proceedings Amanda Knox and Raffaele Sollecito have been considered, wrongly, as an inseparable entity. This distorted image has certainly impaired the proceedings from the first trial," they continue.
For the Kerchers, it's been a difficult and long seven-year journey. "The interest of the family is to arrive to the end of this trial," said their lawyer, Francesco Maresca. "They want to be able to remember Meredith outside of the court room."
Watch: Raffaele Sollecito's Secret Girlfriend Reveals Indecent Marriage Proposal