Phaedra Parks Breaks Down In Tears Over Divorce In Shocking New Video: 'It's Unfair!'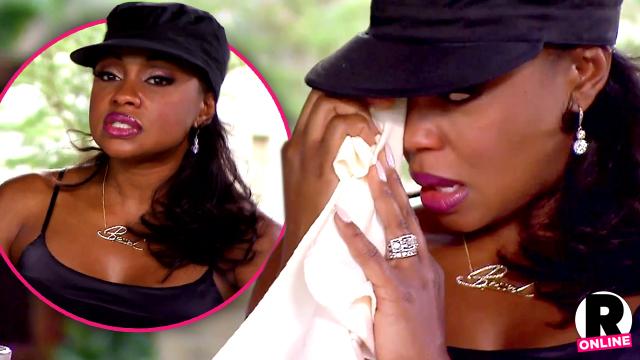 Nearly three months after Phaedra Parks announced she was divorcing imprisoned Apollo Nida, The Real Housewives of Atlanta star still hasn't filed. But in a new preview clip for the show, it's clear the process is already taking a serious toll.
In a teaser for the upcoming episode of Real Housewives of Atlanta, Parks is seen talking to co-star Claudia Jordan about her divorce from her imprisoned husband, Nida, and how it's affecting their children, one-year-old Dylan and Ayden, 4.
Article continues below advertisement
"'I'm not really going to discuss that with you," Parks says about the divorce. "I'm real private so I don't really go around chatting with a lot of people."
But then, overcome with emotion, she decides to open up.
"I just see this as a major trial," Parks explains. "Just got to get through it, but I've got to surround myself with people who have my back."
For Parks, this means NeNe Leakes and Porsha Williams.
"NeNe and Porsha, they've been extremely supportive," she says.
Despite having her friends' support, however, Parks reveals she is wracked with worry about how the situation is affecting her kids.
"Obviously, it's very tough because it affects my kids so much," she says. "You have all kind of weird stares, and my older son is very much traumatized, asking those very hard questions like, 'Can we apologize and make it better?' You can't explain that."
At this point, Parks loses control of her feelings.
"It's just unfair that my innocent children will have the whole world looking at them sideways because of something that their father did," she tells the cameras. " can only hope and pray that the stares and judgment will fade with time."
Watch her breakdown here and tune in to RHOA on Bravo Sunday at 8/7 central: