Melanie Griffith & Don Johnson Reunite On 'SNL' As Daughter Dakota Hosts Show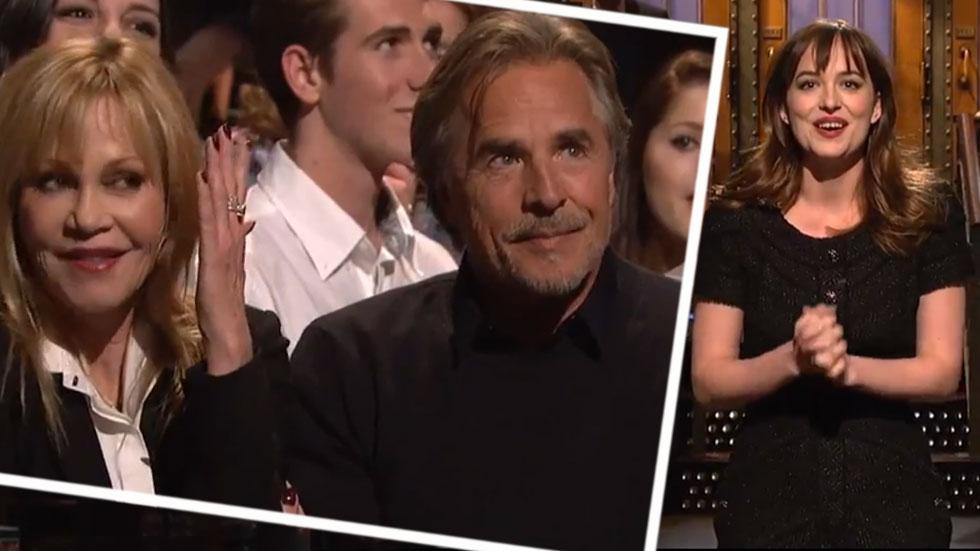 Melanie Griffith and Don Johnson, who were married from 1989-1996, reunited this weekend to support their daughter as she hosted Saturday Night Live.
Fifty Shades of Grey star Dakota Johnson, 25, opened the show by telling a story about her parents, who happened to be sitting in the audience.
"You may not know this but my parents are Melanie Griffith and Don Johnson. It is incredible that I am standing on this stage right now because in December 1988 my mother stood in this exact spot and hosted SNL," she explained. "Right after the show my father got down on one knee and proposed to her for the second time - and exactly nine months later I was born."
Article continues below advertisement
"So I must have been conceived that night after the show, or even during the show. Isn't that right you guys?" she said as she pointed out her parents in the crowd. Melanie and Don pretended to shield their faces as Dakota asked if they were embarrassed she told that story.
"No, no, we were just worried that you were going to be naked," Don deadpanned, while the audience erupted in laughter.
Watch The Video On RadarOnline.com: