Exclusive
'RHOC' Housewife Lynne Curtin's Porn Star Daughter Arrested For Domestic Violence – With A Knife & Tiki Torch!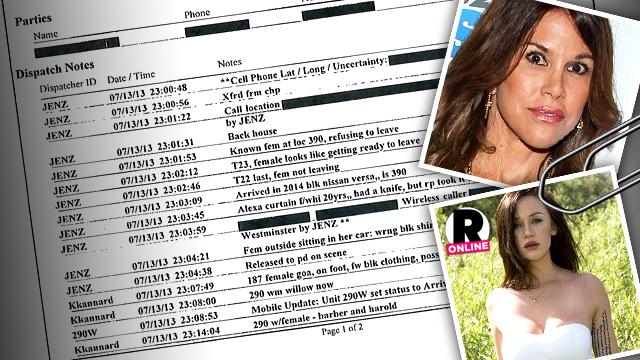 The Real Housewives of Orange County star Lynne Curtin's porn star daughter Alexa was always known as a reality TV wild child — but her legal issues were worse than the world ever knew! RadarOnline.com has uncovered yet another of her past arrests, this time for felony domestic violence involving a knife and tiki torch.
The terrifying incident took place on July 13, 2013, when a then 20-year-old Alexa went over to her ex-boyfriend's house in Westminster, California to rekindle their romance.
Article continues below advertisement
But when Michael Devecchio, her live-in boyfriend of three years, found out she may have "hooked up" with another guy, things got heated, according to the police report obtained by Radar.
READ The Unbelievable Police Report
When cops arrived on the scene, shirtless Devecchio was "visibly intoxicated" with watery eyes, the report said. And he told cops the former reality star was "drunk and out of control."
Devecchio claimed he had "discovered a suspicious message on her Facebook profile" from another guy. So he contacted the other man who claimed he and Alexa had "sexual relations," said the report.
Devecchio became "enraged" and confronted Alexa, now 22, about the alleged cheating, calling her a "liar" and "derogatory" names, according to cops. When he took her wrist and asked her to leave, the report claims, she refused to get up from his couch and instead grabbed a large kitchen knife and held it to her neck.
Article continues below advertisement
According to the report, "she held the knife up to her throat and threated to slice her own throat. She asked him if he wanted her to kill herself since he didn't want to be with her."
Because her ex was unsure if she was serious about killing herself or just doing it to garner "sympathy," the ex report states, Devecchio grabbed her wrist and the knife dropped out of her hand.
Still, when he tried to get Alexa out of his house, she resisted by hitting and scratching him, per the report. She then allegedly took a tiki torch from an outside planter and threw it at him.
According to official incident documents, Michael walked away with two small bloody cuts on the back of his hand, two-inch scratches on his neck and chest, and a four-inch scratch down the middle of his chest — while the only injury Alexa sustained were "hickee" bruises on her neck.
When cops showed up, Devecchio told them she "acts that way usually." In fact, he didn't want police to arrest her and said he regretted calling them. He even backtracked, insisting Alexa never hit him.
But after a neighbor told cops he knew about their "constant fighting" and Alexa's inconsistent statements to police, the responding officers put her in cuffs and charged her with spousal abuse.
A judge later granted an emergency restraining order against her, but she got lucky when the district attorney refused to prosecute based on insufficient evidence.