Kathy Griffin Blasts Giuliana Rancic After Zendaya Coleman Dreadlock Scandal—'I Wouldn't Have Said The Joke'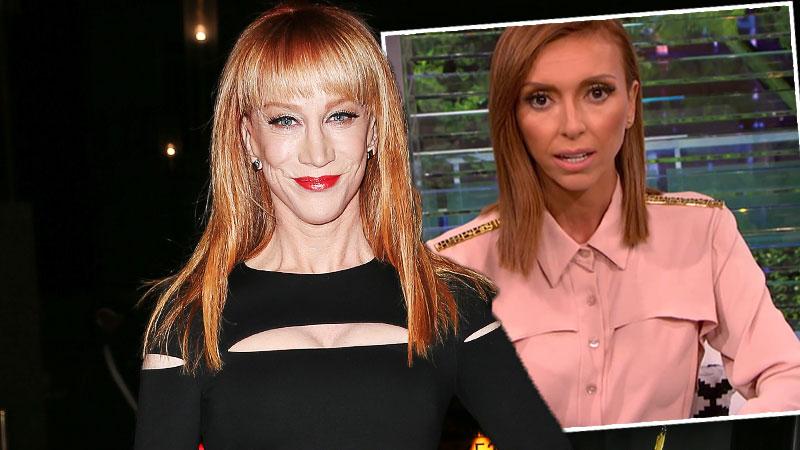 Kathy Griffin likes a good joke, but she wasn't laughing after Giuliana Rancic sparked a major controversy with her recent comments about Zendaya Coleman's dreadlocks smelling like patchouli and pot.
In a new interview with the Chicago Sun-Times Splash magazine, Griffin was asked if she thought there would have been such a scandal if she had made the quip instead of Rancic, 40.
"Probably not," Griffin answered, before adding, "but I wouldn't have said the joke in the first place."
Article continues below advertisement
The 54-year-old Fashion Police co-host was quick to give Rancic some advice for how to conduct herself on the red carpet. "Don't have anyone write you jokes or even suggest jokes for you on Fashion Police, she suggested. "You have enough great insider gossip from actually being ON the red carpet. That's what fans want to hear the next day. Just talk and be yourself."
Moving on to the subject of Kelly Osbourne's decision to quit the show, the comedian gave a behind-the-scenes glimpse into the days leading up to the 30 year-old star's departure. "Sometimes she seemed very upset at the merely seven tapings of Fashion Police we did together," revealed Griffin.
Still, she's a big fan of the Osbourne clan. "I can tell you this: I adore that family," she said. "I've spent the most time with Sharon. She is the real deal. Love her! Kelly came to my house a couple of times when Joan was in the hospital and we were consoling each other. I can tell you there was genuine love there. Oh, and of course, Ozzy is amazing."
How do you think Kathy Griffin is doing so far on Fashion Police? Tell us in the comments section below.