Princess Fail! Vogue Editor Posts Offensive Instagram Snap Of Parisian Homeless Woman Reading Magazine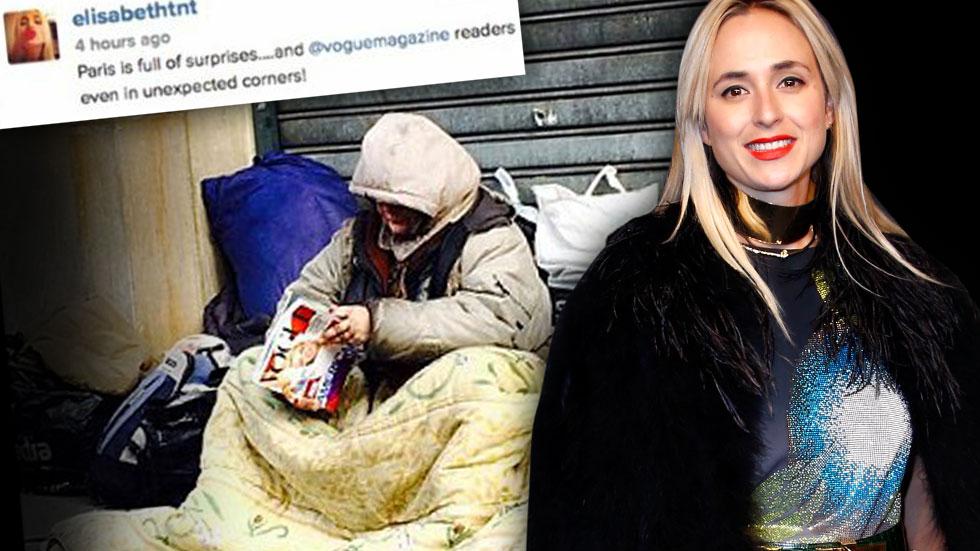 Vogue's style editor-at-large Elisabeth von Thurn und Taxis (often referred to as TNT) received major backlash after posting a photo to Instagram of what appears to be a Parisian homeless woman reading the magazine.
"Paris is full of surprises....and @voguemagazine readers even in unexpected corners!" the caption of the German princess's photo read.
After followers protested her offensive photo, TNT defended her post, commenting: "Why cruel? The person to me is as dignified as anyone else!"
Article continues below advertisement
Needless to say, the fashionista soon removed the post from her account altogether.
Later, she posted an apology to her Instagram, which read: "I wanted to extend my sincerest apologies for the offense my post has caused. Yours truly Elisabeth."
https://instagram.com/p/z-C1e8MI8w/?modal=true&utm_source=partner&utm_medium=embed&utm_campaign=photo
Some followers supported the 32-year-old in her efforts, but the damage had already been done, unfortunately.
Just this morning, the homeless woman -- identified as Maryse Dumas -- spoke out against the German beauty's tasteless Instagram post, sharing that living on the street is "no joke."
"Look at me surrounded by all this rubbish," she lamented about the ordeal. "It's ugly. It's hard living on the street. It's cold at night and if you can't sleep you get ill. My legs hurt and I'm losing my teeth."
Let's hope she can improve her princess etiquette on social media!
Do you think Elisabeth von Thurn und Taxis' post was offensive? Sound off in the comments below!