Arkansas State Rep. Under Fire For 'Re-Homing' Adopted Girls With Man Who Molested Them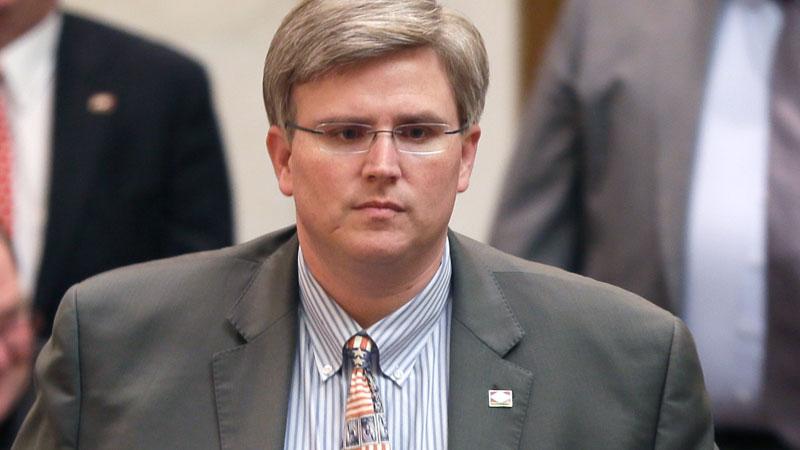 Arkansas state Rep. Justin Harris is embroiled in scandal after sending two young girls he adopted to live with a man who wound up sexually abusing one of them.
Here's how it all went down: Two years ago, Harris adopted two girls from a home in which drug and sexual abuse routinely occurred.
Harris unsuccessfully tried to reverse the adoption with the Dept. of Human Services' offices after seven months, claiming the children were too rambunctious to raise, citing an incident in which one killed an animal; and how their three sons had feared the two so much, they had to sleep in the room with their parents.
Article continues below advertisement
Harris said DHS officials told him he'd be charged with abandonment if he took the children back.
Harris -- who runs a pre-school with his wife Martha called Growing God's Kingdom Inc. -- then decided to "re-home" the girls, and took them to stay with friends of his wife's, Eric and Stacey Francis. Eric Francis, who had no prior criminal record, was subsequently convicted of molesting the older sister, who was 6.
That began a war of words between the politician and the agency, as Harris claimed DHS foisted the children on him, while the agency said he used his political influence to push the adoption through despite their repeated warnings about the girls' initial upbringings.
Further complicating the issue, the Arkansas Times reported, was that family babysitters said that the politician and his family thought the children were possessed by the demons, and put videocamera surveillance on them.
Article continues below advertisement
One of the babysitters in question, Chelsey Goldsborough, told the paper that Harris and his wife were consumed by "demonic possession and telepathy," and even had experts attempt to perform an exorcism on them.
The two girls have since been adopted by a new family, who called the politician's family's accusations about the pair "inexcusable."
"These girls are happy, healthy children who have gone through things no child should ever have to endure," the new adoptive parents told the paper. "Since they have been home with us, they have adjusted beautifully and are thriving in our home with unconditional love and patience.
"We are truly amazed at our daughters' ability to love and bond with us, given all they have experienced."
The scandal has divided politicians in Arkansas, with some calling upon Harris to resign from office, while others are defending him, claiming the story was put out to harm Christian interests.
In turn, two lawmakers in Arkansas have sought to have the act of "re-homing," moving adopted children to a separate family, criminalized.