Victory For Hernandez: Judge Rules Murder Jurors Can't Hear Claims Aaron Shot Another Friend In The Face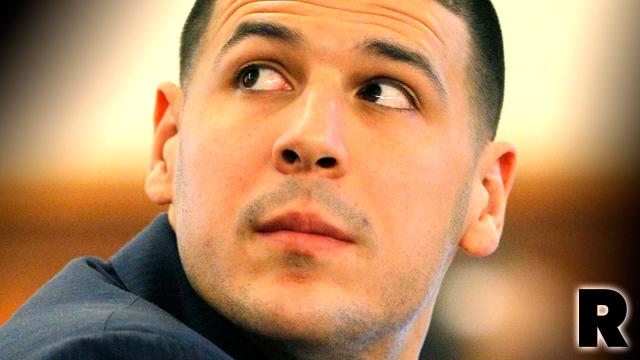 Does Aaron Hernandez have "a propensity to shoot his friends"? Amid claims that Hernandez blasted a friend in the face just months before he allegedly killed friend Odin Lloyd, the judge in the ex-NFL's star's murder ruled Wednesday that jurors will not hear about the prior incident.
Hernandez's former friend Alexander Bradley sued Hernandez in a Florida court, alleging that he lost his right eye when he was shot in his face during an argument outside a Miami nightclub in February 2013, just four months before Lloyd's killing. Bradley claimed Hernandez then dumped him in an industrial area after the shootout.
Article continues below advertisement
Llloyd's body was found at a construction site. However the judge in Hernandez's ongoing murder trial said the incident was "quite different in terms of there being a clear motive for a fight." The difference was that Bradley made "disparaging remarks" about Hernandez in front of his friends and the attack happened soon after, Judge Susan Gersh said.
Prosecutors want to use the incident as evidence that the former New England Patriots player has "a propensity to shoot his friends," they said.
The judge said there is still a chance she might allow the claims to be aired in court. "If he testifies he never fired a gun, they can impeach him with a prior bad act," she said.
The prosecution was allowed, however, to show the bullet-riddled shirt Lloyd was wearing when he was shot to death and left at a construction site not far from Hernandez's home on June 17, 2013. Defense lawyers had tried to keep the bloody evidence from the juror's eyes, but a state chemist who tested the shirt held it up and displayed it in court Wednesday.
The chemist also testified that a wad of chewing gum found stuck to a bullet casing linked to the Lloyd shooting was never tested for DNA evidence.
Hernandez's right-hand man Ernest Wallace and another man will be tried separately in connection with the murder. Hernandez also faces another murder trial set to start in May for the murders of two men allegedly connected to a spilled drink incident at a Boston nightclub.