Exclusive
Cruelest Cut: Controlling Kanye West Forced Kim Kardashian To Chop Her Locks — And She Hates The New 'Do!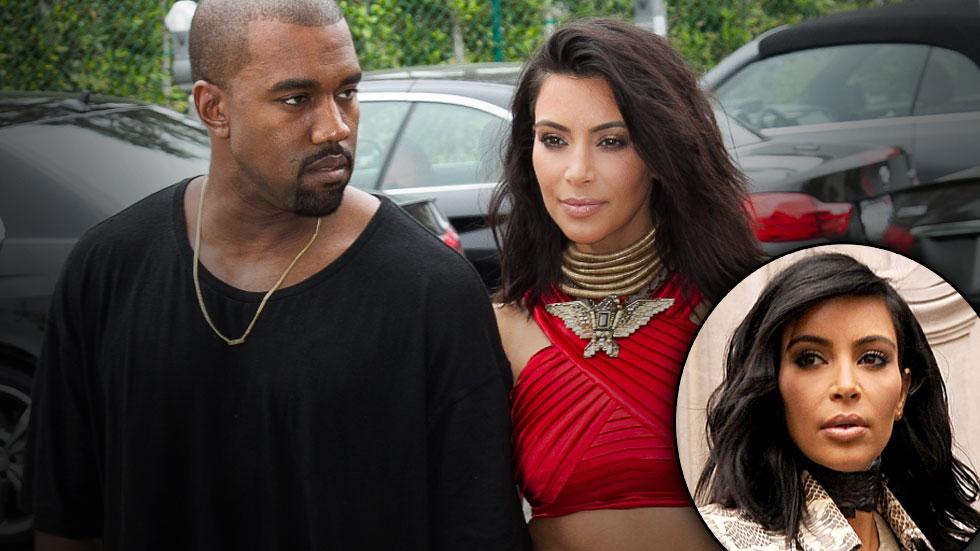 Kanye West believes he is the next Steve Jobs, Walt Disney — and Vidal Sassoon? RadarOnline.com has learned that his latest stroke of "creative genius" was to force his wife, Kim Kardashian, to remove her extensions for an edgier look. Ever-compliant Kardashian agreed, according to a source, but now she's devastated because she hates the new look!
The new style "took seven inches off Kim's famous long hair," an insider told Radar. "Kim's hair had been badly damaged because of the extensions, and Kanye ordered her hair stylist to remove them, because he wanted her to have an edgier look. The extensions also required a lot of maintenance, and Kim complained about the time it took."
Article continues below advertisement
"While Kanye loves Kim's new hairstyle, she just isn't feeling it at all," the source said. "She doesn't feel sexy, and thinks the short hair makes her look frumpy. Adding to the fact that she recently gained about fifteen pounds, Kim just isn't feeling great about her body."
The Keeping Up With The Kardashians star posted a photo of herself on Instagram last Friday showing off her new look — and she seemed less than enthused. "I cut my hair short today," she captioned the moody shot.
Indeed, she was quick to divert attention by posting another, sexier photo of her lying on her stomach with her bare booty on full display.
By all accounts, she'll be back to normal soon.
Said the source, "Kim is already telling friends, she hopes to have the extensions back in very soon. Kanye won't be happy about it, but Kim will say she had to for professional reasons."
Do you like Kim's new look? Let us know in the comments!