Exclusive
Bruce Jenner's Speed & More Details From The Deadly Crash Revealed — Why The Victim 'Didn't Stand A Chance'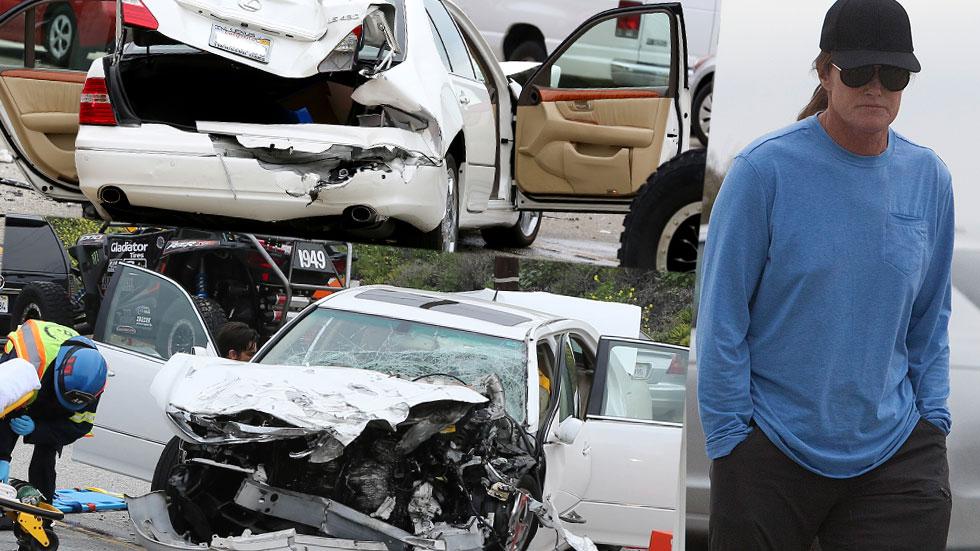 The Malibu Sherrif's Station sent out a desperate plea on social media Monday afternoon, looking for new witnesses to Saturday's fatal collision involving Bruce Jenner. But as the exact chain of events leading up to one woman's death remains murky, RadarOnline.com has uncovered new details from the crash, and why insiders say the deceased victim "didn't stand a chance."
According to a source close to the investigation, "Cops believe Bruce was traveling 45 - 50 mph, and only had seconds to hit the brakes before hitting the Lexus directly in front of his Escalade."
Article continues below advertisement
"The Escalade was towing an all-terrain vehicle," the source continued, "and the impact of the collision, including Bruce swerving into the right lane, caused the Lexus to be pushed into oncoming traffic. The Lexus was hit by a Hummer, which was also going at least 50 mph, killing the elderly driver, Kim Howe instantly."
"Ms. Howe didn't stand a chance, being hit by two very large and heavy SUVs," the source said.
What's more, "If Bruce hadn't taken the defensive move to swerve into the right lane, the Lexus most likely wouldn't have been pushed into the opposite lanes of traffic."
Jenner was driving his Escalade and was towing a trailer with an all-terrain vehicle on Malibu's Pacific Coast Highway Saturday when he ran into the white Lexus from behind, Los Angeles County Sheriff's Department Sgt. Philip Brooks said. The Lexus spun into oncoming traffic and was hit by a Hummer H2. The driver of the Lexus was pronounced dead at the scene. The pileup started when a Prius stopped in the northbound lanes on Pacific Coast Highway, according to the Sheriff's Department.​
Article continues below advertisement
Jenner and the driver of the Prius could be facing vehicular manslaughter charges as a result of the fatality. (Jenner could also be cited for following too closely behind the Lexus.)
The deadly accident sent five people to the hospital, including several small children. Early reports speculated the crash was caused by Jenner attempting to flee from paparazzi, or his alleged use of a cellphone.
However, police said that didn't appear to be a contributing factor of the accident.
Sgt. Brooks told RadarOnline.com on Monday, "Bruce Jenner as well as the driver of the Prius have indicated they will be voluntarily turning over their cell phone records. The driver of the Prius will also be re-interviewed again."
No one has yet been cited in the accident.