Early Signs Of Trouble: Bobbi Kristina Sneaks Alcohol, Slurs Words, Nods Off As Teen In Shocking Video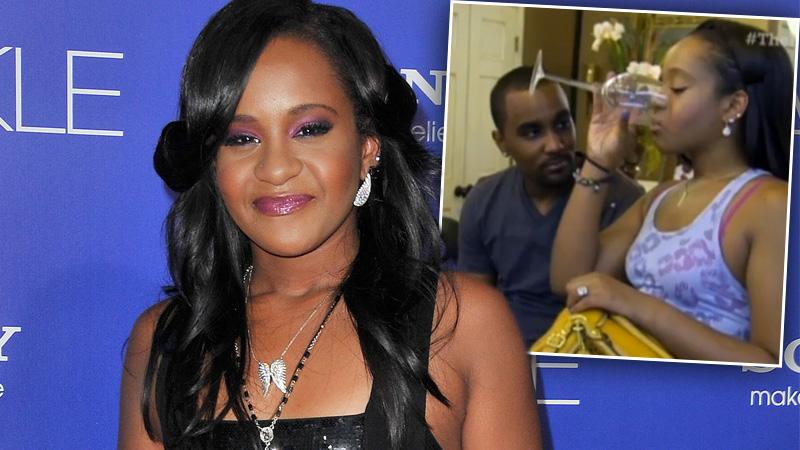 More than two years before she was found unconscious in her bathtub, Bobbi Kristina Brown showed signs of alcohol abuse and bizarre behavior.
On an early episode of Lifetime's 2012 reality show The Houstons: On Our Own, the then 19-year-old— who had just lost her mother Whitney Houston in a drug-related drowning— attempted to sneak booze from her aunt, Pat Houston, and shocked other relatives with her sedated demeanor at a family dinner.
Article continues below advertisement
In a video obtained by RadarOnline.com, Bobbi Kristina, accompanied by boyfriend Nick Gordon, 25, picks up a bottle of Moscato wine.
"Can I have a ga…a glass?" the teen slurs. "Tastes good, tastes like apple juice."
She laughs with heavy-lidded eyes and mumbles a few more words about juice.
"I am definitely not liking what I'm seeing right now in Krissy's behavior," Pat then says in a confessional interview. "I've had my suspicions about the drinking, because I know that in the past her mother would allow her to have a glass of champagne or a class of wine, but I do not want her dealing with her mother's passing in the wrong way."
Later in the clip, Bobbi Kristina appears to nod off and then attempts to snatch the wine bottle away from the table again.
"Wow," her uncle, Gary Houston, says as he watches his troubled niece. "Oh my god."
Four days after Gordon and troubled friend Max Lomas discovered her unresponsive, Bobbi Kristina remains in a medically-induced coma at Emory University Hospital in Atlanta.
Watch the disturbing video below: